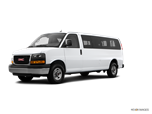 The 2015 GMC Savana drops the 4.3-liter V6 and 5.3-liter V8 engines, simplifying the lineup. It also gets digital audio with USB and auxiliary ports, a standard 110-volt outlet and a new Emerald Green color. Savana Passenger Van models get standard OnStar with turn-by-turn navigation.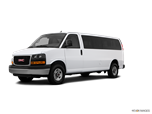 For 2014, the GMC Savana gains standard power windows and door locks. Cut Away 3500/4500 models with the 159-inch wheelbase increase GVWR to 9,900 pounds.
About GMC Savana 2500 Passenger
The reality is that the aging GMC Savana has been surpassed when it comes to people- and cargo-carrying duties. Newer vans from Mercedes-Benz, Nissan and even Ford offer new architecture with more interior space and better fuel economy. However, the 2015 GMC Savana offers up some big advantages of its own. First, it's considerably less expensive than those newer vans, especially the Mercedes-Benz. Second, that it has been around forever means there's a ton of aftermarket parts for customization, or "up-fitting." You can get passenger, cargo or "cutaway" versions, and all-wheel drive (AWD) is available with some of the many engine combinations. It's also one of the few vans that can carry up to 15 people right from the factory.