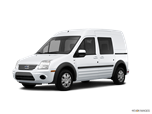 The mobility package, making access easier for those with physical handicaps, has been updated by Ford's aftermarket partner, MobilityWorks. FYI: An all-new 2014 Transit Connect has been revealed, and while its launch date for the U.S. has not been formally announced it should arrive stateside in the second half of 2013.

About Ford Transit Connect Passenger
The 2013 Ford Transit Connect is, along with the newish Fiesta and all-new Focus, the embodiment of the company's "One Ford" product philosophy. Designed and developed for European markets, the Transit Connect combines an upright, 2-box profile and expansive interior volume with a front-wheel-drive platform almost agricultural in its execution. The end result is an affordable and economical van/wagon with equal appeal to both commercial carriers and activity-oriented families. The 2013 Transit Connect may be the most singular lifestyle introduction since Toyota's launch of its Scion xB, and the most functional since VW's original Microbus.