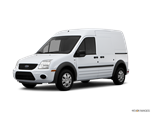 The mobility package, making access easier for those with physical handicaps, has been updated by Ford's aftermarket partner, MobilityWorks. FYI: An all-new 2014 Transit Connect has been revealed, and while its launch date for the U.S. has not been formally announced it should arrive stateside in the second half of 2013.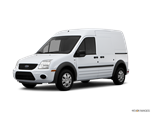 For 2012, the Transit Connect is equipped with Ford's AdvanceTrac with Roll Stability Control. Previously optional, AdvanceTrac is an electronic traction and stability control program that greatly increases safety. A passenger-friendly XLT Premium Wagon is added to the lineup, featuring a three-person second-row bench seat.
About Ford Transit Connect Cargo
To meet the needs of small businesses and practical-minded consumers, Ford is bringing the Transit Connect, formerly available in Europe and other spots around the globe, to the United States. Why bring a somewhat funky car/van/wagon to America? Because schlepping moderate amounts of goods around town in a traditional commercial cargo van is often inefficient, while small panel vans like the Chevy HHR can be just too small. In kind of a "just right" size, the Transit Connect offers a lower price, lower operating costs and more versatility than bigger vans, and it's been well-proven in some tough areas. There really is nothing quite like it on the American market.