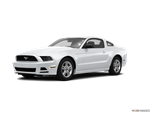 In anticipation of a major redesign next year, commemorating the 50th anniversary of the iconic model, the 2014 Ford Mustang gets only some different paint colors and package contents. The Boss 302 model is dropped and the Shelby GT500's horsepower rating climbs to 662 (previously the temporary "over-rev" spec).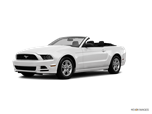 2013 Ford Mustangs receive minor tweaks to their exteriors, front and rear, plus added technology like the Track Apps software to measure performance, upgraded audio systems, and more power from the 5.0-liter V8 engine. A new supercharger gives the Shelby GT500 a monstrous upgrade in power, with its V8 churning out 650 horsepower.
About Ford Mustang
One more model year before a complete makeover to celebrate its 50th anniversary: That's the story for the 2014 Ford Mustang. Almost nothing changes this year for the original ponycar, that iconic symbol of affordable performance that blends modern efficiency with a strong 1960s-America vibe. New technology that includes track-specific software and mobile apps helps keep this muscle car modern, while four seats and a tolerable ride make it worthy of being a daily driver. The 2014 Mustang coupe and convertible are available in a wide range of forms, from a low-$20,000 V6 rear-drive sporty-car bargain to the $55,000-plus Shelby GT500 that packs a 662-horsepower monster motor. What a country.