Narrow year range (drag arrows to filter):
See photos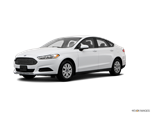 For 2014, the Ford Fusion receives some new color choice inside and out, as well as optional inflatable seatbelts for outboard rear passengers, a heated steering wheel and ventilated front seats. A new 1.5-liter turbocharged engine debuts, while the Fusion Hybrid gains a new, lower price trim level, the S.
About Ford Fusion
Fresh from its debut last year, the Ford Fusion continues to redefine the role of the midsize family sedan, including a plug-in hybrid electric model dubbed the Fusion Energi. Unlike the hybrid car, the Energi can run at high speeds up to 22 miles solely on electric power, after which the gasoline engine kicks on to power the vehicle. Those interested in more traditional methods of propulsion will be quite satisfied with Ford's gasoline only offerings, including two small displacement turbo engines with big power and bigger fuel economy figures. All 2014 Fusion models offer stunning styling, a host of sophisticated electronic audio and communication options, and a sporty demeanor more commonly associated with Audi or VW than the big blue oval – all of which inspired us to name it one of the 10 Best Sedans Under $25,000 for 2014.