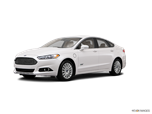 The Ford Fusion has been revamped for 2013 with a new design and high-tech safety features such as adaptive cruise control. Two different turbocharged 4-cylinder engines replace the V6 choices in previous models, and a plug-in hybrid called the Fusion Energi joins the regular Hybrid model, which is now rated at 47 mpg.
About Ford Fusion Energi
The 2013 Fusion marks the second generation of Ford's mid-size family sedan. What was a good-looking car to begin with has become a dazzling one now with fresh sheet metal and slightly larger dimensions. At first glance, you might think it's an Aston Martin. The Ford Fusion's positive traits are more than skin-deep. Under its sleek hood, Ford has replaced the past V6 engine options with a choice of two small-but-powerful and fuel-efficient turbocharged 4-cylinder powerplants. Those seeking the greatest fuel-economy will be drawn to the Ford Fusion Hybrid and Fusion Energi, a plug-in hybrid. With great looks, solid driving dynamics and a wide variety of features at competitive prices, the 2013 Fusion can more than hold its own against rivals like the Toyota Camry and Honda Accord.