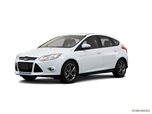 Fully redone for 2012, the Ford Focus is largely unchanged for the 2013 model year except for the availability of a 5-speed manual transmission on the top-line Titanium trim level, the departure of the semi-premium SEL version in favor of a more comprehensively-appointed SE and the arrival of the hot, new Focus ST (reviewed separately).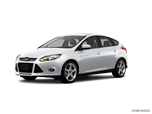 A comprehensive makeover raises an already popular player in its segment to a position of prominence and possible dominance thanks to the addition of a new hatchback body style, greatly-expanded/upgraded feature set and a range-topping Titanium trim level. And while the 2012 Ford Focus Electric marks the Blue Oval's first crack at a mainstream electric car, they succeeded in producing a relatively affordable gas-free vehicle that drives, feels and looks like a conventional car.
About Ford Focus
When Ford's compact Focus replaced the venerable Escort for the 2000 model year, it was America's state-of-the-art small car. Its distinctive looks, roomy packaging, lively performance and agile, fun-to-drive handling drew critics' raves and accolades ranging from Motorweek's Best Small Car to North American Car of the Year, the latter voted by a jury of 49 North American journalists. A series of quality glitches and recalls soiled its reputation for a while but were eventually overcome. For 2007, aging but still strong, it still deserves a place on small-car shopping lists.