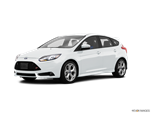 As the Ford Focus ST was all-new for 2013 the changes for 2014 are minor. There's a Rado Gray Alloy Wheel Package that includes darker argent wheels and red brake calipers, and optional "Focus ST Racing Stripes" to adorn things from front to back.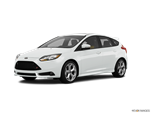 The Ford Focus ST is all-new for the 2013 model year, and it includes a wide variety of Euro-tuning tricks that set it apart from its more pedestrian Focus brothers. With minor exceptions, it is exactly the same car European Focus ST buyers get.
About Ford Focus ST
For decades, American driving enthusiasts have grouched that the Europeans really did get all the good stuff. Then Ford shipped the Focus ST 5-door hatchback across the Atlantic, had the gumption to leave it alone, and the grouching is over. This IS the good stuff. All the usual cliches about what it means to have a finely-chiseled, European-style performance driving experience apply, and those who have been waiting for this level of response and refinement should beat a path to the local Ford dealer. It looks great, drives even better and, to top it all off, it's roomy, fuel-efficient and affordable. Being able to compete with such pocket rockets as the Mazdaspeed3 and Volkswagen GTI, the 2014 Focus ST is, assuredly, the good stuff.