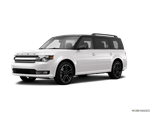 After a thorough facelift and some mechanical and equipment upgrades last year, the 2014 Ford Flex gets minimal changes in package contents.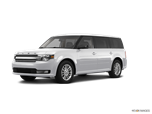 For 2013, the Ford Flex gets a significant facelift with restyled front end, instrument panel and seats. There is a little more power in the base engine, manual shifting for the 6-speed automatic, new MyFord Touch, and several new available systems including parallel-parking assist and adaptive cruise control.
About Ford Flex
The 2014 Ford Flex is not your typical 7-passenger family vehicle, as you can tell just by looking at it. The silhouette – long, flat-sided, squared off – suggests the big station wagons of the 1960s and 1970s, and it sits lower and sleeker than a typical SUV. Competitors like the Honda Pilot, Dodge Durango and Chevrolet Tahoe can tout maximum tow ratings and off-road capability, but the Flex chooses to focus on transporting people over paved surfaces. It's striking and stylish as well as functional and useful – a fine combination similar to minivans and SUVs in capabilities, but clearly different from both.