2007 Ford Five Hundred Review
By KBB.com Editors
Ford's full-size Five Hundred has not been the hit for which the company had hoped. Despite its roomy interior, cavernous trunk and frugal V6 engine, consumers apparently are not impressed by the car's bland styling and lackluster performance. That's a shame, because compared to the aging Crown Victoria, a car whose sales are still going strong, the Five Hundred offers more passenger space, a better chassis, better safety ratings and the option of all-wheel drive. Although Americans appear unwilling to give up on their beloved V8 engines (note the success of the Dodge Charger and Chrysler 300), should gas prices continue to climb, the Five Hundred may yet find a larger audience.
You'll Like This Car If...
If you're older or less agile than the average driver or passenger, you'll appreciate the Five Hundred's high-mounted seats, which permit exceptionally easy entry and exit. All-wheel drive is a plus not offered by many in this field.
You May Not Like This Car If...
If you yearn for expressive styling, the Five Hundred's conservative countenance might not thrill your synapses. Some drivers may have trouble getting used to the continuously variable transmission (CVT) fitted with the all-wheel drive system because its smooth and linear power delivery negates the familiar kick felt when changing gears.
What's Significant About This Car?
The Five Hundred lineup has been reduced to two trim levels: SEL and Limited. Side-impact airbags and head-curtain airbags are standard on all models, while the front-wheel-drive models receive a six-speed automatic transmission. New options for the SEL trim include navigation, heated seats and SIRIUS Satellite Radio.
Driving Impressions Despite allegations of tepid CVT acceleration, a Five Hundred so equipped takes off energetically enough to satisfy most drivers and does so with gratifying smoothness. Engine blare can be heard,...
but moderately and briefly. Passing and merging response is quick and effortless. Only occasionally might you wish for a lower gear when tromping the gas. The suspension reacts promptly, yielding an easygoing, controlled ride with few unpleasant surprises—even when the pavement starts to deteriorate. Easy to drive, this sedan maneuvers quite handily—more like a smaller car. And while handling is on the ordinary side, the car is far from cumbersome.
CVT
Nothing makes the Five Hundred stand farther apart from the crowd than the Continuously Variable Transmission, which is available in only a few other vehicles and operates with a smooth flow of power.

High Seats
Few automobiles make it so effortless to slip inside. Before you know it, you're comfortably seated behind the wheel and ready for an easy drive.
2007 Ford Five Hundred Details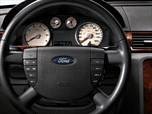 Interior
Not only is the Five Hundred a breeze to enter, it's a pleasurable place to be seated. Spacious and attractive, the interior delivers comfortable front seats, sensibly laid-out controls, helpful storage areas and a low cowl for wide-open views of the road ahead. Abundant glass and good-sized mirrors also help visibility. Gauges are small but easy to read, but the automatic temperature control doesn't always follow the driver's wishes for appropriate heat. Backseat riders enjoy far more legroom than most sedans can provide, though headroom and comfort shrink sharply in the center position. The easy-loading trunk holds plenty of luggage, too.
Exterior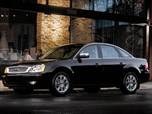 Shunning flashiness, Ford designers made little attempt to conceal the Five Hundred's identity. From its straightforward wire-fence grille to its big tail lights, this sedan exudes common sense. Enthusiasts might brand the design uninspiring, but such caustic comments aren't likely to sway the likeliest prospects for an amply-sized sedan. So many automakers have opted for sensuous shapes even on their most practical vehicles that it's refreshing to see a sedan that flaunts clean lines and looks like what it's intended to be. Inside and out, the Five Hundred and its Mercury Montego mate aim toward comfort, driving ease and unfettered visibility.
Standard Equipment
The front-wheel-drive Five Hundred SEL includes a six-speed automatic transmission, front side-impact and head-curtain airbags, four-wheel anti-lock disc brakes (ABS), six-way power driver's seat, two-way power passenger's seat, auto-dimming rearview mirror, fold-flat front passenger seat, cruise control, tilt wheel with redundant audio controls, AM/FM stereo with CD player and 17-inch alloy wheels. The Limited trim adds 18-inch wheels, heated chrome exterior mirrors, dual-zone automatic climate control, upgraded audio with subwoofer and six-disc CD changer, heated leather seats, eight-way power driver's and four-way power passenger's seat with memory function for driver's seat and exterior mirrors.
Optional Equipment
All-wheel drive is available on both the SEL and Limited trims. Other popular options include a rear-obstacle detection system, power-adjustable pedals, rear-seat DVD entertainment package, power moonroof, heated leather seats, DVD navigation, upgraded audio with SIRIUS Satellite Radio, fog lamps and traction control.
The Five Hundred's V6 provides good acceleration and impressive fuel economy. Low-end torque is sufficient for off-the-line sprints, but seems in short supply when it comes to performing high-speed passing maneuvers. The engine is fairly quiet until the throttle is pushed wide open, at which point it can sound like a blender at full tilt. In fairness, although not as refined or quiet as the V6 engines from Honda or Toyota, the Five Hundred's Duratec V6 is significantly improved over its former iteration.

3.0-liter V6
203 horsepower @ 5750 rpm
207 lb.-ft. of torque @ 4500 rpm
EPA city/highway fuel economy: 21/29 (FWD), 19/25 (AWD)
To compare current market prices, check out KBB.com's car classifieds to view the new and used Ford Five Hundred vehicles for sale near you.