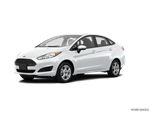 With an all-new model on the horizon, the 2015 Ford Fiesta arrives with no changes for this year. The good news is that it's still fine, with a sporty ST model, a fuel-efficient 3-cylinder, and all the style and features you can pack into a subcompact.
Model year 2014 brings a minor restyle and a major performance boost to the Ford Fiesta line. The ST model, with its 197-horsepower EcoBoost 1.6 engine, becomes the presumptive King Hot Hatch in the sub-compact category. A unique 3-cylinder EcoBoost 1.0 is optional in the other models.
About Ford Fiesta
The 2015 Ford Fiesta is part of the elite segment of the subcompact market that includes the Honda Fit, Toyota Yaris and Chevrolet Sonic. Sailing into its last year before a full redesign, there aren't a lot of changes. That's OK, as we're smitten with its slick European looks, excellent fuel economy, and fun-to-drive nature. Extroverts can opt for wild exterior and interior colors and trims, while the more practical can opt for the security of a 4-door's trunk, or the versatility of a 5-door's hatchback body. The Fiesta's available in S, SE, and Titanium trim levels, or a hatchback-only high-performance ST. Then there's the available 1.0-liter 3-cylinder EcoBoost engine, which Ford says gives the Fiesta the best non-hybrid fuel economy on the market.