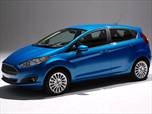 Model year 2014 brings a minor restyle and a major performance boost to the Ford Fiesta line. The ST model, with its 197-horsepower EcoBoost 1.6 engine, becomes the presumptive King Hot Hatch in the sub-compact category. A unique 3-cylinder EcoBoost 1.0 is optional in the other models.
More than the vehicle itself, the Ford Fiesta's order sheet has been revised for 2013 creating a new, more rational alignment of equipment and feature packages. There are now three distinct trim levels – S, SE and Titanium – each of which is available on both Sedan and Hatch body styles.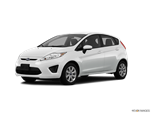 The 2012 Ford Fiesta sub-compact sedan and hatchback adds two new interior option packages to the SEL and SES trims, sees a revised Sport Package with more features, and makes integrated side blind-spot mirrors standard on all models.

About Ford Fiesta
Have you heard the story about the domestic auto industry that kept claiming its products were as good as Japan's best? It's a twist on the tale of the boy who cried wolf. In Aesop's original, nobody believes the boy when things really do go bad. In our update, people are skeptical when things really do go good. That's the battle Ford faces in selling America on the most impressive, most recommendable, most buyable lineup a domestic automaker has offered in many drivers' lifetimes. Do we think the 2011 Ford Fiesta is as good as Japan's best in the category (the Honda Fit)? It's better. And if you don't believe us, blame the past practices of the domestic auto industry.