Narrow year range (drag arrows to filter):
See photos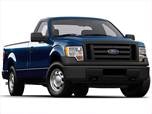 Four new engines mark the big changes for the 2011 Ford F-150: a 3.7-liter V6, 5.0- and 6.2-liter V8s, and a twin-turbocharged 3.5-liter EcoBoost V6. For the first time, a six-speed automatic is standard on all F-150 models. Other new features include the use of electric power-assisted steering, an available 4.2-inch LCD message center, a larger in-mirror rearview camera system, and a telescoping steering wheel.
About Ford F150 Regular Cab
Ford took a big risk with last year's all-new F-150, and one would think its success alone should be reward enough. But, the 2016 Ford F-150 pickup isn't resting on its laurels. The F-150's aluminum body and turbocharged EcoBoost V6 engines are unique in the full-size class, leaving the Chevrolet Silverado, Ram 1500 and Toyota Sequoia playing catch-up. The weight savings afforded by the aluminum body result in greater payload and improved fuel economy, as well as help the F-150 achieve best-in-class towing. And, while the EcoBoost V6 has proven it is capable of challenging the best V8s, both the Ram and Nissan Titan now provide a diesel option for their 1500 trucks, something Ford and Chevy have yet to offer.