Narrow year range (drag arrows to filter):
See photos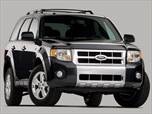 Despite its new look, the 2008 Ford Escape's chassis, engines and transmissions are, for the most part, carry-overs from the previous model. What is new are the redesigned exterior and interior components, which include seat fabric made from 100-percent recycled material, a new dash backlit in "Ice Blue" lighting and standard AdvanceTrac with Roll Stability Control (RSC).
About Ford Escape
Ford's foray into the world of hybrid-electric vehicles appears to have been a short trip. After launching the Escape Hybrid to much fanfare, the company has backed away from its lofty hybrid fleet goals, focusing instead on alternative fuels such as E85. That's a shame, because the Escape Hybrid is an impressive little SUV, touting outstanding city fuel economy and greatly reduced emissions. While the Escape Hybrid costs about $5,000 more than a comparably equipped gasoline Escape, the price is still within reach of most consumers and is nearly $12,000 less than the Toyota Highlander Hybrid. On the other hand, Saturn's VUE passive hybrid costs about $3,500 less, although it cannot match the Escape Hybrid's city fuel economy figures.