Narrow year range (drag arrows to filter):
See photos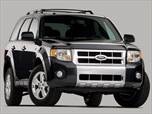 Despite its new look, the 2008 Ford Escape's chassis, engines and transmissions are, for the most part, carry-overs from the previous model. What is new are the redesigned exterior and interior components, which include seat fabric made from 100-percent recycled material, a new dash backlit in "Ice Blue" lighting and standard AdvanceTrac with Roll Stability Control (RSC).
About Ford Escape
In the auto business, it doesn't take long to go from the top of your game to playing catch-up. So it seems is the case with the Ford Escape; a versatile and fuel-efficient compact SUV, but one starting to grow old, and fast. Though given a thorough freshening two years back, the Escape finds itself surrounded by newer and larger compacts, some capable of carrying up to seven passengers. It does not feature the latest advancements in stability control, nor does it offer the latest gadgets such as DVD navigation. Still, the Escape is a sturdy and proven vehicle, one well-suited to the needs of individuals and small families with active life styles and tight budgets.