2014 Ford E150 Passenger Review
By KBB.com Editors
For over 50 years, the Ford E-Series van has made a name for itself as transport for cargo and passengers. In that time, Ford's venerable van has become a workhorse depended on daily by businesses, fleet services, and families large enough to form their own hockey team. But time has caught up with the Ford E-Series, and 2014 marks the final year for the aging carryall as it makes way for the technologically superior and more efficient 2015 Ford Transit. Though the 2014 E-Series is competing with fresher rivals such as the Ram Promaster and Nissan NV, it's impossible to ignore this full-size van's history of commercial service and the familiar bond it has formed with tradesmen and fleet drivers alike.
You'll Like This Car If...
If you want a tried-and-true full-size van, they don't get more iconic than the E-Series. Available as a half-ton, three-quarter-ton or one-ton cargo van or as a passenger wagon, the 2014 Ford E-Series can move a great deal of cargo or people or be customized to serve a variety of professions.
You May Not Like This Car If...
Fresher rivals such as the Ram Promaster, Nissan NV, Mercedes-Benz Sprinter and forthcoming Ford Transit boast more efficient powertrains, better technology and contemporary looks. If you need all-wheel-drive, the also-aging GMC Savana and Chevrolet Express twins offer it.
What's New for 2014
No changes are in store for the 2014 Ford E-Series, which will cease production after this year. (E-Series Cutaways and Stripped Chassis models, however, will continue to be built for commercial applications.)
Driving the E150 Passenger
Driving Impressions You probably wouldn't associate a full-size van with speedy acceleration or a suspension system that grips corners or coddles bodies – and you'd be correct. This is especially so with...
the 2014 Ford E-Series van, which makes do with aging engines and a rudimentary suspension system until its turbocharged, MacPherson strut-wearing Transit replacement arrives. That said, the E-Series is easy enough to live with for the purposes it serves, and features traction and stability control systems to prevent a bad situation from turning worse. The van's big steering wheel delivers a modicum of feedback, but changing lanes suddenly or rounding corners quickly is ill-advised. The E-Series' ride remains relatively controlled even when the vehicle is fully loaded, although it can get rather bouncy.
CREW CHIEF TELEMATICS
This optional embedded communication system allows fleet owners to manage their vehicles, dispatch drivers, keep tabs on usage patterns, and track scheduled maintenance.

ALTERNATIVE FUEL OPTIONS
The E-Series' 4.6-liter and 5.4-liter V8 engines are flex-fuel capable, meaning they can run on the E85 blend of ethanol and gasoline. Even better, the 5.4-liter V8 and 6.8-liter V10 can be converted to run on compressed natural gas (CNG) or liquid propane gas (LPG).
2014 Ford E150 Passenger Details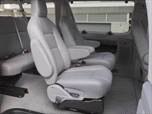 Interior
Both the 2014 Ford E-Series van and E-Series wagon have vast interior space to serve their particular purposes. Cargo models can be equipped with two bucket seats up front and an empty bay, or crew style with a 2nd-row bench seat for three. The real beauty of the cargo van's interior is its ability to be customized with racks, tools and the like. The E-Series Wagon, meanwhile, puts its priority on transporting people. It can seat from seven to 15 people, depending on model and seat layout. Up front, each van is defined by a vast dashboard with dated but easy-to-use dials and controls for audio and climate functions.
Exterior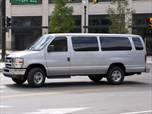 As should be expected in a full-size van, form follows function. And like the half-century's worth of predecessors before it, the 2014 Ford E-Series keeps its box-on-wheels formula intact. Extended-length cargo and passenger models can be had to accommodate more goods or people. Cargo versions of the E-Series can be equipped with side and rear windows, and both models can be had with a sliding side door for easier entry and exit. Large side mirrors aid visibility, and can be ordered with a power-telescoping feature for even better sightlines. If you have a conversion project in mind, the E-Series is available with factory-installed pre-wiring packages to assist your installer.
Standard Equipment
The 2014 E-Series has perhaps the shortest list of standard equipment among modern automobiles. Base versions of both the E-Series van and wagon include air conditioning, front-row vinyl flooring, a tilt steering wheel, intermittent windshield wipers, and a 2-speaker audio system with a basic auxiliary jack for portable music players. In these base versions, the windows and door locks are still operated manually. XLT wagon models add a high-capacity front and rear air conditioning system, cruise control, and an electronic message center. Standard safety features include driver and front passenger airbags and stability control with rollover mitigation.
Optional Equipment
Basic creature comforts available for the 2014 E-Series include a power driver's seat, remote keyless entry, privacy glass, power windows/door locks, cruise control, and a 6-speaker audio prep package. Also on the list are a number of seating configurations for wagon models, fabric-trimmed seating surfaces, chrome-finished bumpers, and alloy wheels. In-vehicle electronics come in the form of Ford's voice-activated SYNC software, a navigation system, a rear backup camera, and Crew Chief telematics that help track fleet vehicles and monitor their idle time, fuel efficiency and more.
The 2014 Ford E-Series offers a choice of three gasoline engines – two V8s or a range-topping V10. The E-150 and E-250 trims come with the base 4.6-liter V8 that provides adequate power, or the optional 5.4-liter V8 that is standard on E-350 models. Ford's big 6.8-liter V10 is optional on E-250 and E-350 models. All 2014 E-Series vans are rear-wheel drive and use automatic transmissions. The V8 engines are mated to an antiquated 4-speed automatic, while the V10 uses a 5-speed. Towing capacity ranges from a maximum of 6,500 pounds for the base V8 to 10,000 pounds for models equipped with the torque-rich V10. As you might expect, fuel economy isn't top of mind with any of these engines. The 2015 Transit promises greater efficiency via smaller and more sophisticated gasoline and diesel engines.

4.6-liter V8
225 horsepower @ 4,800 rpm
286 lb-ft of torque @ 3,500 rpm
EPA city/highway fuel economy: 13/16 mpg (gasoline), 9/12 mpg (E85, wagon) 10/12 mpg (E85, cargo van)

5.4-liter V8
255 horsepower @ 4,500 rpm
350 lb-ft of torque @ 2,500 rpm
EPA city/highway fuel economy: 11/15 mpg (gasoline, wagon), 12/16 mpg (gasoline, cargo van), 9/11 mpg (E85, wagon), 9/12 mpg (cargo van)

6.8-liter V10
305 horsepower @ 4,250 rpm
420 lb-ft of torque @ 3,250 rpm
EPA city/highway fuel economy: 10/13 mpg (wagon), 10/14 mpg (cargo van)
To compare current market prices, check out KBB.com's car classifieds to view the new and used Ford E150 Passenger vehicles for sale near you.