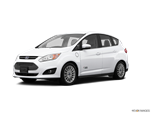 The Ford C-Max sails into 2014 relatively unchanged. New transmission gearing aims to improve fuel economy, while a new approach to fuel-economy labeling results in slightly lower EPA estimates more in line with real-world driving.
About Ford C-MAX Energi
When it comes to bragging rights, the Toyota Prius has long dominated the fuel-efficiency argument. However, the 2014 Ford C-Max is looking to change the debate by offering a hybrid with features that go beyond good mpg, namely style, comfort and a fun-to-drive attitude. Like the Prius the C-Max is a 5-door hatchback that can comfortably fit four people, or with its seats folded haul loads of cargo. Because it's based on the Ford Focus the C-Max is more driver-friendly than the Prius, offering a better ride, a quieter cabin and a more polished interior. While the Prius may have been first to the party, the 2014 Ford C-Max looks to be the kind of gate-crasher that isn't going to leave without a fight.