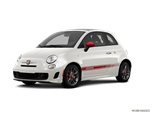 A new 1957 special edition is added, bringing a retro look that defined the original car. Other changes include a new Ivory interior color, new wheels and a revised passenger seat that sits an inch lower to the floor.
About FIAT 500 Abarth
The Fiat 500 heralds the Italian automaker's return to the U.S. market, and so far things seem to be going well. Though many will draw comparisons between the 500 and the Mini Cooper, in truth the two are very different cars. Where the Mini is about performance, the 500 lures buyers with an attractive price and miserly fuel efficiency. Those wanting more power can opt for the 500 Turbo or the high-performance Abarth, while those seeking to pay nothing for gas can opt for the all-electric 500e. Being Italian, the 500 of course comes with a variety of designer trims, colors and equipment, all aimed at helping this small car make a big splash.