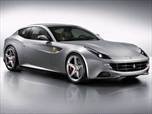 For 2015, Ferrari has finally ditched the antiquated Chrysler-sourced audio and navigation unit for a more modern piece. Along with better navigation and functionality, the 2015 FF by Ferrari now features CarPlay, a system that uses the navigation screen to display maps, apps and messages from one's smartphone.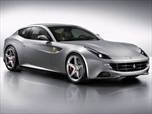 The most notable changes from the 2013 to the 2014 Ferrari FF 4-passenger sports coupe is the addition of once-optional features such as cruise control, auto-dimming mirrors, power front seats, a rearview camera and an automatic rear hatch.
About Ferrari FF
We can't help drawing comparisons between the 2015 Ferrari FF high-performance coupe and the old BMW Z4. But, it's not just the FF's wagon-like tail that's a bit out of place for a Ferrari; there are an extra pair of seats for additional passengers and an actual cargo hold behind them. Further differences appear under the FF's seductive metal skin, where an all-wheel-drive (AWD) setup is mated to a fire-breathing 651-horsepower 6.3-liter V12 engine. Despite all this high-powered hardware, the Ferrari FF for 2015 remains just under the 4,000-pound mark, enhancing both performance and handling. Even millionaires, however, are careful with their money, and one can obtain less exclusive exotic cars such as a Porsche Panamera or Jaguar XKR-S for far less money.