2013 Ferrari F12berlinetta Review
By KBB.com Editors
The 2013 F12berlinetta is Ferrari's new flagship, and the latest in a long line of 12-cylinder exotic GT models from the Italian automaker. Though rather awkwardly named, there's little else not to be enamored with regarding this strong and svelte 2-seater whose heart pumps out some 740 horsepower. As the successor to the 599 GTB Fiorano, the F12berlinetta is the highest-performing production car Ferrari has ever built. While figures such as a 3.1-second 0-60-mph time and top speed of 211 mph are sure to wow, the new Ferrari F12berlinetta stands apart from Lamborghini and Aston Martin rivals with its modern-yet-classic Pininfarina design and the provenance endowed in the Prancing Horse badge. At $320,000-plus, Ferrari's latest gem is reserved for precious few.
You'll Like This Car If...
If owning not just a Ferrari, but the flagship Ferrari, is as important to you as the inherent performance of these supercars, then the F12berlinetta is the Italian stallion that will be happy in your stable.
What's Significant About This Car?
The F12berlinetta is all-new and replaces the 599 GTB Fiorano as Ferrari's flagship performance car, at least until the limited-production 2014 LaFerrari arrives.
Driving the F12berlinetta
Driving Impressions It goes without saying that the F12berlinetta is fast. If the mere fact that it's a Ferrari isn't proof enough, the F12berlinetta's 0-60-mph time of 3.1 seconds and top speed...
of 211 mph should more than clarify its position. As impressive as these figures are, speed isn't the sole factor in this Ferrari's greatness. Neither are its whopping 740 horsepower or 500-plus lb-ft of torque that are poured into its rear wheels with a force akin to Niagara Falls. Power is one thing, but delivering it with grace is another. The Ferrari F12 succeeds in that finer point. For its tremendous performance capabilities, the Berlinetta is surprisingly easy to drive, even at speeds well beyond those allowed by Johnny Law. Steering is light, grip is gargantuan, and even shifts are stress-free thanks to an F1 automated gearbox that is a far cry from Ferrari's past gated manual transmissions.
740 HORSEPOWER
It's difficult to grasp just how much power the Berlinetta wields. To put that number in perspective, let's compare: It has 100 more horsepower than an SRT Viper, 175 more than the Aston Martin Vanquish, and 600 more than a Honda Civic. So don't worry about being first onto the freeway.

COMPLIMENTARY MAINTENANCE
This isn't as flashy a boast as projectile-like acceleration or a cavalry's worth of horsepower, but one important perk that comes with the F12berlinetta is its seven years of complimentary maintenance.
2013 Ferrari F12berlinetta Details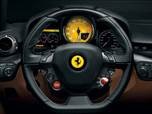 Interior
The Ferrari F12berlinetta's 2-passenger cabin is rather minimalist in nature but exquisitely crafted. Leather is the main material, nicely punctuated by bits of carbon fiber and aluminum alloy. One interesting option is a display on the passenger side of the dash that presents critical information such as the car's speed. The gear selector is elegant. It consists of a bridge that houses buttons for forward, reverse and "launch." The Berlinetta's seats comfortably accommodate individuals up to 6 feet, 4 inches, and a selection of sizes is available to fit different body shapes. The rear cargo bench and hatch area are upholstered and have enough room for a golf bag and several smaller items.
Exterior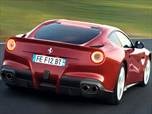 Sleek, taut, bold and beautiful are all apt descriptors of Ferrari's latest flagship. Designed by longtime collaborator Pininfarina, the F12berlinetta is at once new yet familiar. Among its most prominent features are massive aerodynamic channels on each side that help the F12 streak through the air. Elongated headlights are just the beginning of the Ferrari's wind-swept design, and its rear wraps up succinctly with large, circular LED lights and quad tailpipes that sing out the Berlinetta's exhilarating exhaust note. Like the F12's interior, personalization options abound to make this exotic's exterior unique to each owner.
Standard Equipment
Plunk down the $320,000 needed to get into a 2013 Berlinetta, and you'll receive the keys to a race-ready exotic with a V12 engine, 20-inch wheels, and high-performance tires and brakes. Also included is a plush leather interior with a selection of seat sizes. The Berlinetta includes an infotainment system that offers navigation, stereo with Bluetooth streaming and USB connection. Infotainment and performance information are displayed directly in front of the driver via TFT screens.
Optional Equipment
Options are plentiful both outside and within to make the F12berlinetta your own, with choices that include over two dozen paint colors (including 10 historic ones) and interior detailing that extends to your preferred type of stitching. Other offerings include front and rear parking cameras, fully electric seats, Alcantara headliner and seats, and specialty luggage set. Audio lovers will want to consider the JBL Professional sound system that pumps out 1,280 watts through 12 speakers. Also available is the spiffy passenger display that at least relays in numbers the thrills you're experiencing behind the wheel.
At the heart of the F12berlinetta is a 6.3-liter V12 engine. Naturally aspirated, direct-injected and with a redline that soars to 8,700 rpm, this mechanical heart can pleasure even the most indulgent of hedonists. At its peak, the V12 sends 740 horsepower to the rear wheels. Channeling that force is a 7-speed F1 dual-clutch transmission with manual control. Other high-tech systems and features abound to put all that power to work, including Ferrari's third-gen E-Diff 3 electronic differential, F1 traction control, and magneto-rheological suspension. The Berlinetta's V12 engine is slightly more efficient than past versions, but at 13 mpg combined it still drinks enough premium-grade fuel to require a $3,700 gas-guzzler tax.

6.3-liter V12
740 horsepower @ 8,250 rpm
509 lb-ft of torque @ 6,000 rpm
EPA city/highway fuel economy: 12/16 mpg
To compare current market prices, check out KBB.com's car classifieds to view the new and used Ferrari F12berlinetta vehicles for sale near you.