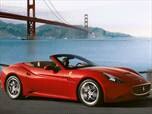 After shedding nearly 30 pounds last year, Ferrari's convertible California sports car cruises into 2014 with no major changes.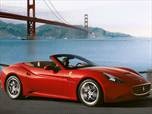 Those who fear that this combination convertible/coupe is too soft should take comfort in knowing that the California has gained 30 horsepower and lost 30 kilograms (roughly 66 pounds) of weight for 2013, thus ushering in its new moniker of California 30. For those craving more cornering prowess, there is the Handling Speciale package.
About Ferrari California
As high-performance exotic sports cars go, the 2014 California convertible by Ferrari is a relative steal. As the least-expensive Ferrari in the prancing horse showroom, the $205,000 California supercar seems a bargain, even with its aging platform and somewhat dated interior features. The California's aluminum retractable hardtop permits year-round driving ability, while the car's moderate suspension and automatic transmission make it an easy exotic to live with. Ferrari purists may snub their nose at the California's V8 engine and somewhat un-Ferrari-like rear-end styling, but those seeking the simple enjoyment of owning one of Italy's most cherished makes will likely overlook such trivialities, whether the venue of choice is cruising the California coastline or carving up the track.