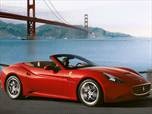 Those who fear that this combination convertible/coupe is too soft should take comfort in knowing that the California has gained 30 horsepower and lost 30 kilograms (roughly 66 pounds) of weight for 2013, thus ushering in its new moniker of California 30. For those craving more cornering prowess, there is the Handling Speciale package.
About Ferrari California
With a starting price around $200,000, the Ferrari California is actually the least expensive among the Prancing Horse's 2013 models – and one with a dual nature. A retractable hardtop roof that transforms the California from coupe to convertible and an automatic transmission also make it one of the easiest Ferraris to live with on a daily basis. While Ferrari purists may seek a more traditional model with a 12-cylinder engine and a design that looks less like a Maserati, the California still holds plenty of appeal, especially to buyers new to the brand. Now dubbed the California 30 to signify its extra power and loss of weight, this Ferrari is just as comfortable tearing up a track as it is cruising the coastline.