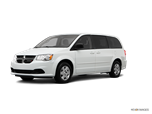 The 2013 Dodge Grand Caravan American Value Package (AVP) is made even better this year, with a lower price and more features that make it the most affordable 7-passenger minivan in America. A rear-seat entertainment package with Blu-Ray-compatible DVD player is offered on R/T and Crew models.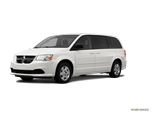 The 2012 Dodge Caravan minivan carries over largely unchanged for 2012. A new American Value Package (AVP) is offered creating the lowest-priced minivan in the segment. The AVP package has a host of features including second- and third-row Stow 'n Go seating, cruise control, and a V6 engine.

About Dodge Grand Caravan Passenger
If you have a big family, but your pocket book says "no" to a big SUV, the Grand Caravan might be your next-best choice. Although still referred to as a minivan by the EPA, the Grand Caravan has long since outgrown any description with the word "mini" in it. This sizable people hauler can seat up to seven passengers and features Dodge's innovative Stow 'n Go seating, which allows the second and third-row seats to be folded flush into convenient floor wells. The Grand Caravan has a long list of standard and optional equipment, but its aging design lags behind newer minivans in offering such features as roll-down sliding-door windows, and it's also behind the competition in horsepower and torque.