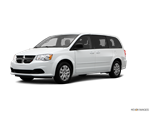 The major Dodge Grand Caravan news for 2014 is the availability of an optional 30th Anniversary model, which includes numerous luxury, convenience and trim features that are otherwise, for the most part, either parts of packages or stand-alone options.
About Dodge Grand Caravan Passenger
The 2014 Dodge Grand Caravan remains as a leader on the list when a family starts shopping for a minivan, and with good reason. Going head-to-head with segment leaders like the Honda Odyssey and Toyota Sienna, the Grand Caravan features a smooth and powerful V6 engine that deals well with full loads and freeway merges, a nicely-finished interior that includes attractive ambient lighting and the thoughtful features Stow `n Go system (allows folding the 2nd-row seats into the floor), and a very affordable price. It might be somewhat plain on the outside, but where you need it to work is on the inside, and the Dodge Grand Caravan does that very, very well.