2007 Dodge Dakota Club Cab Review
By KBB.com Editors
Although dubbed a "mid-sized" pickup by Dodge, the Dakota offers so much interior room, power and cargo space it might was well be a full-size truck. With no rival from Ford or GM, and only a handful of Japanese competitors (none of which can best the Dakota's torque, towing capacity or cabin volume), the Dakota continues to play in a league of its own. A bold exterior inspired by the larger Dodge Ram allows even the base Dakota to stand out in a crowd. Although no Regular Cab model is offered, Club Cab models start below $20,000 and provide enough interior room for four people. In this category, no other competitor offers a V8 engine option, while the Dakota offers a choice of two.
You'll Like This Car If...
If you want or need V8 power, but prefer a pickup with more manageable dimensions than a full-size Ram, the new Dakota is a fine choice. It also just happens to be your only choice.
You May Not Like This Car If...
While the Dakota is definitely a solid truck, it doesn't offer the powertrain refinement and smoothness of the Toyota Tacoma or Nissan Frontier. Also, there is no Regular Cab model available.
What's Significant About This Car?
For 2007, a dual-position tailgate is made standard on all models, as is a retained-power feature. The 4.7-liter V8 is now Flex-Fuel compatible, meaning it can run on either gasoline or E85, and Remote Start is offered for the first time on SLT and Laramie trims.
Driving the Dakota Club Cab
Driving Impressions We drove the Dakota equipped with the regular Magnum V8—not the high-output version—and while it felt strong enough to tow a trailer, we weren't overwhelmed with its power. Out on...
the highway, a nicely tuned suspension delivers a comfortable ride that won't jar any fillings loose nor bounce you into a state of motion sickness.
The Dakota isn't at all unpleasant to wheel around town either, thanks to a responsive accelerator and well-balanced power steering. Pulling quickly out into traffic takes some initial restraint, however, as the rear wheels can tend to break free rather easily if you hit the throttle hard.
High-Output V8
Delivering 260 horsepower and 310 pound-feet of torque, the Dakota's 4.7-liter high-output MPI V8 engine gives mid-size buyers a full-size engine option.

MP3 Capability
We're still waiting for the day that MP3 playback capability is standard on every CD system, but for now we're just happy to have it as an option.
2007 Dodge Dakota Club Cab Details
Interior
The exterior theme of curves and lines carries into the interior of the Dakota, especially the dash. Overall, the passenger area is clean and purposeful and without many surprises—or much color variation. The seats are comfortable, and it's the only truck in its class to offer six-passenger seating with an available bench seat up front. The fold-down rear seats in the Crew Cab model might come in handy in a pinch, but if you ever plan to put people you like back there, you'll definitely want to opt for a Quad Cab model.
Exterior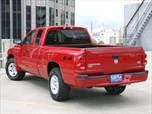 In 1994, the truck segment was pleasantly surprised by the introduction of the most stylized pickup in recent memory: The Dodge Ram. This style was lifted nearly intact from contemporary big-rigs. The 2007 Dakota continues the same theme, although with a sharper edge. And while the mix of soft curves and sharp lines might not appeal to everyone, the Dakota maintains much-needed visibility in what has become a competitive category. For hauling, the Club Cab cargo bed is six feet, six inches long, and the Quad Cab bed is five feet, four inches. Each measures 45.2 inches between the wheel wells, and has a convenient 17.6-inch wall height that lets you load from the side with ease. The Regular Cab and eight-foot bed option are no longer available.
Standard Equipment
The entry-level two-wheel-drive Dakota Club Cab has a 3.7-liter V6, six-speed manual transmission, air conditioning, cloth bucket seats, dual-position tailgate, front airbags and a four-speaker AM/FM/CD sound system.
Optional Equipment
Available features include the Quad Cab configuration, 4.7-liter Flex-Fuel Magnum V8, 4.7-liter high-output MPI V8, four-wheel drive (shift-on-the-fly or full-time), leather seating, a six-speaker AM/FM/six-CD/MP3 sound system, SIRIUS Satellite Radio, UConnect hands-free communication, steering wheel-mounted audio controls, front bench seat, heated seats, six-way power driver's seat, power sunroof, side-curtain airbags, power door locks and windows, anti-lock brakes (ABS) and a sliding rear window.
While the Dakota's V6 can certainly handle a loaded cargo bed, those who intend to tow and still merge with freeway traffic are best served by one of the optional V8s.

3.7-liter V6 Magnum
210 horsepower @ 5200 rpm
235 lb.-ft. of torque @ 4000 rpm
EPA city/highway fuel economy: 16/22 (2WD manual), 16/22 (2WD automatic), 16/20 (4WD manual), 15/19 (4WD automatic)

4.7-liter V8 Magnum
230 horsepower @ 4600 rpm
290 lb.-ft. of torque @ 3600 rpm
EPA city/highway fuel economy: 15/20 (2WD manual, Gasoline), 15/20 (2WD automatic, Gasoline), 15/19 (4WD manual, Gasoline), 15/20 (4WD automatic, Gasoline), N/A (2WD manual, E85), N/A (2WD automatic, E85), N/A (4WD automatic, E85).

4.7-liter V8 High-Output MPI
260 horsepower @ 5200 rpm
310 lb.-ft. of torque @ 3600 rpm
EPA city/highway fuel economy: 14/18 (2WD), 14/18 (4WD)
To compare current market prices, check out KBB.com's car classifieds to view the new and used Dodge Dakota Club Cab vehicles for sale near you.