Narrow year range (drag arrows to filter):
See photos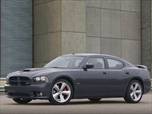 The Charger SRT8 receives a host of new standard equipment, including dual-zone automatic temperature control, automatic headlamps, remote start, one touch-up/down windows and heated front seats. Improvements to the ABS system and suspension, as well as a new Super Bee "buzz model", round out 2009's updates.
About Dodge Charger
Imagine what it must have been like to walk into a dealership, point out the muscle car of your dreams and drive it off the showroom floor. Until recently, the only people who could recount the joy of driving a brand-new GTO, Challenger or Boss Mustang were those who came of driving age during the 1960s. But, thanks to Dodge, the experience has been brought back to life, only this time the muscle car of your dreams isn't a cramped, poor-handling coupe, but a sophisticated and comfortable sedan. With one of the most powerful HEMI V8 engines on the planet, the Dodge Charger SRT8 is more than just a rehashed nameplate from the past; it is the genuine article remade with twenty-first century technology.