2007 Chrysler Aspen Review
By KBB.com Editors
On the surface of it, launching a large SUV into the current market might seem a little like showing up at a party just as it's breaking up. Scratch that surface, though, and a rationale emerges. The segment for large sport utility vehicles, while shrinking, is still substantial, and Chrysler has, up to now, had no player in this market. The Durango-based Aspen is an elegant addition to the large SUV landscape, even if that landscape is eroding.
You'll Like This Car If...
Some drivers need what only a large sport utility vehicle can provide. If your lifestyle regularly requires a vehicle with room for six or seven people, or lots of cargo, or you tow a trailer, or your travels or your climate make four-wheel drive more a necessity than a nicety, you now have another quality choice for your shopping list.
You May Not Like This Car If...
Perhaps higher fuel prices took you out of the large SUV market, or perhaps you never really needed one in the first place. If so, you may find that a mid-size SUV, or a wagon-like crossover, makes more sense and will use less gas, too.
What's New for 2007
Chrysler's research revealed that, at trade-in time, 25 percent of its customers were swapping their cars for SUVs. The problem was, the brand had none to offer, hence brand-loyal buyers were forced to look elsewhere. That all changes with the rollout of the new Aspen.
Driving Impressions On the road, the Aspen has a well-cushioned ride fit for the longest road trip. Too big to be agile, the Aspen nonetheless handles with sure stability, and that includes...
during towing. Rearward visibility to the sides is hindered by wide C- and D-pillars. Four-wheel-drive models with the 4.7-liter V8 get a single-speed transfer case, while 5.7-liter powered four-wheel-drive models pack a two-speed unit, with all-wheel-drive and four-wheel-drive high and low modes. Few Aspens are likely to be called upon to venture off-road, but for such situations there is an optional skid plate package that provides protection for the transfer case and fuel tank (standard on J Package four-wheel-drive models).
Smooth Powertrain
The optional 5.7-liter V8 and five-speed automatic transmission combination is smooth and powerful. The HEMI engine is responsive on the road and strong enough to tow a maximum of 8,950 pounds.

Three-Row Seating
Aspen doesn't have a bad seat in the house. If your passengers complain, it will be about your driving, not their accommodations.
2007 Chrysler Aspen Details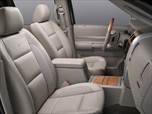 Interior
The Aspen has a roomy, refined interior. The view from the driver's seat takes in a trio of round, retro-flavor gauges, with black-on-white graphics, and brushed silver and wood-grain trim accent the center stack, console and doors. A true, full-size SUV, the Aspen seats seven to eight people in three rows. Getting in or out of the third row doesn't demand the nimbleness of a gymnast, and those consigned to the third row won't feel slighted. With the maximum number of passengers on board, minimum cargo capacity is 20 cubic feet. Both third and second row seats fold nearly flat, and storage space increases accordingly from big (68.4 cubic feet) to bigger (102.4 cubic feet). Lift-over height in back is low, and the opening is usefully wide, but those over six feet tall will need to duck under the liftgate door when loading luggage or lumber.
Exterior
The latest editions of the Cadillac Escalade and Lincoln Navigator sport enough brightwork on their front ends to make a 1950s car blush but, by comparison, the Aspen's face comes off as conservative—which isn't necessarily a bad thing. The four-bar grille is capped by a winged, heritage badge, and hood strakes are similar to those on Chrysler's Crossfire sports car. Buyers who want to boost Aspen's bling factor can opt for the 20-inch, 10-spoke chrome rims. The Aspen otherwise strikes a traditional SUV profile, with beefy, squared-shoulder styling.
Standard Equipment
The Aspen is available in two trim levels; E Package and up-level J Package. Both versions are offered in two- or four-wheel drive. Standard equipment in the Aspen Limited E includes a 4.7-liter, E85-compatible V8, linked to a five-speed automatic transmission. Other highlights include an Electronic Stability Program, LED interior lighting, stain-resistant interior fabric, roof rails and 18-inch aluminum rims. The J Package includes the HEMI V8, 20-inch chromed wheels and a larger third-row seat that splits 60/40.
Optional Equipment
The Aspen can be optioned with a variety of information and entertainment features, including a navigation system, SIRIUS Satellite Radio (standard on J Package) and a rear-seat DVD entertainment system. Aspen J models are also equipped with a number of features that can be added as stand-alone options on E versions, including the 5.7-liter HEMI V8, running boards, remote start, rear park assist system and a power liftgate.
The standard powertrain in the Aspen is a 4.7-liter V8 matched to a five-speed automatic. The 4.7-liter is E85-compatible, and thus able to run on gasoline, ethanol or a mixture of the two. Optional is Chrysler's 5.7-liter HEMI V8. Ironically, the bigger engine provides not only more power but also better fuel economy. The 4.7-liter works well in the Aspen platform, but if you can swing the extra money ($995), there's really no incentive not to buy the HEMI, as it offers more "go," more "tow" and better fuel economy than the smaller engine.

4.7 liter V8
235 horsepower @ 4500 rpm
300 lb.-ft. of torque @ 3600 rpm
EPA city/highway fuel economy: 14/19 (2WD, GAS), 10/14 (2WD, E85), 14/18 (4WD, GAS), 9/13 (4WD, E85)

5.7 liter V8
335 horsepower @ 5000 rpm
375 lb.-ft. of torque @ 4000 rpm
EPA city/highway fuel economy: 15/20 (2WD), 14/19 (4WD)
To compare current market prices, check out KBB.com's car classifieds to view the new and used Chrysler Aspen vehicles for sale near you.