Narrow year range (drag arrows to filter):
See photos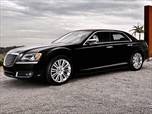 The 2012 Chrysler 300 receives a new 8-speed ZF automatic transmission as well as new S letter series and Luxury Series trim levels. The new transmission is available on the V6 Limited, 300S and AWD models, with the S trim getting a "Sport" shift manual mode. Versions of the Chrysler 300 with the V8 get a new mesh grille, while the "Beats by Dr. Dre" audio system is offered on more models. Model-year 2012 also marks the return of the 300 SRT8, featuring a 6.4-liter Hemi V8, 2-mode adaptive damping suspension and 19-speaker harman/kardon audio system.
About Chrysler 300
Chrysler's 300 sedan for 2016 hearkens back to a time when big, rear-drive, V8-powered cars ruled the American highways. Loaded with the most advanced technology and safety features, the 300 is superior to its ancestors, and with its Hemi-powered V8, runs circles around competitors like the Toyota Avalon, Hyundai Azera and Chevy Impala. The 300's rear-drive setup (RWD) delivers the kind of performance enthusiasts prefer, but its available all-wheel drive (AWD) is there for those who must regularly deal with snow and ice. What really sets the 300 apart from other sedans in this class is its interior. Elegant even in base guise, the 300 serves up more variety, more color and more upscale options than some full-blown luxury sedans.