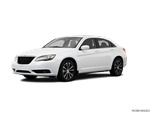 The 2013 Chrysler 200 receives only modest changes, with the popular S trim remade as a package for the Touring and Limited trims. A new 5-year/100,000-mile powertrain warranty backs the 200, and the convertible gets an upgraded suspension for a more engaging driving experience.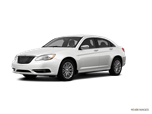 While the 2012 Chrysler 200's Sebring roots are still evident in its profile, it's a new experience from the driver's seat. The front-wheel drive sedan's strong 3.6-liter Pentastar V6 nearly matches the efficiency of the entry 2.4-liter 4-cylinder, handling is crisp, and the cabin offers a premium feel. After such a drastic transformation for 2011, little is changed for 2012.

About Chrysler 200
In what has to be one of the most ambitious model overhauls in Chrysler's long and rocky history, the company has revised or completely remade its entire model line including its Dodge and Jeep divisions. Considering where the company was just a year and half ago, this kind of massive retooling is nothing short of miraculous. Of the many models to see an improvement, none was more in need than the dowdy Chrysler Sebring Sedan. Given a new look, a new interior and a whole new name, the Chrysler 200 is a much more competent competitor to such vehicles as the Volkswagen Jetta and Honda Accord, although it remains to be seen if consumers will overlook the still somewhat dated design in favor of the tempting goodness simmering beneath the car's sheet metal.