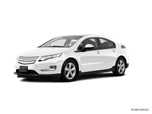 The Chevrolet Volt sees no major changes for 2014.
About Chevrolet Volt
Chevrolet's Volt for 2014 is more than a hybrid and more than a pure electric. Actually, it's a bit of both. Unlike most hybrids, the Volt can run at freeway speeds on pure electric, but only for limited range of about 30-40 miles. When the battery pack is depleted, a small gasoline engine kicks on to run a generator that powers the electric motor while simultaneously recharging the battery pack. With the gasoline engine running, the Volt's estimated range is increased to 380 miles and its fuel economy estimated around 40 mpg. Unlike many electric and hybrid offerings the Volt's styling isn't awkward or geeky, and its interior is one of the coolest we've seen in or out of a hybrid.