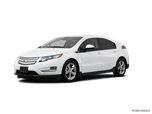 The 2013 Chevrolet Volt gets a new Hold mode in its drive selection to conserve battery charge, and a new no-cost-option low-emissions package qualifies the Volt for single-occupancy HOV lanes in California and New York. New features include lane-departure and collision-warning systems, and GPS-enabled navigation.
The 2012 Chevrolet Volt hybrid electric car receives a few new features this year, including GM's MyLink that allows Bluetooth streaming for music, as well as voice activation for certain smart phones. Also new is a passive-entry system for all four doors and liftgate, color-keyed wheel accents for the new 17-inch wheels, and Turn-by-Turn navigation through the OnStar telematics system.

About Chevrolet Volt
With its unique Voltec propulsion system that combines a powerful electric motor and an internal-combustion engine/generator, the 2011 Chevrolet Volt establishes a new class of high-efficiency/low-emission production car that overcomes the single most critical real-world shortcoming of pure electric models: Range anxiety. This stylish four-door compact hatch can travel an average of 35 miles on pure electric power from a Lithium-ion battery pack before its gasoline-fueled "range extender" transparently kicks in to directly generate electric power for another 344 miles. Loaded with technology and creature comforts, Chevy is betting the Volt will outpoint its eco-oriented challengers in the Great Green Derby – especially the equally new Nissan LEAF EV and the reigning conventional hybrid champ, the Toyota Prius.