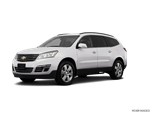 The 2013 Chevrolet Traverse has a design freshening that's most notable in the front fascia. The new Traverse also features the MyLink infotainment system and what Chevy says is the industry's first front-center airbag.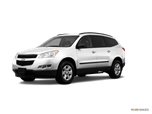 The mirrors on the LTZ are now power folding, heated and have a driver's-side auto-dimming feature. The LT2 gets the same mirrors, only they must be folded manually.
About Chevrolet Traverse
Although the once-thriving SUV business is in a sales downturn, GM is keenly aware that many Americans still have a need for seven-passenger transportation. With this in mind, GM has created a new line of crossover SUVs offering maximum interior space, mid-level towing capability and fuel economy numbers that reach into the mid-twenties. The latest iteration of this well-conceived platform is the 2009 Chevrolet Traverse, a vehicle that combines contemporary styling, one of the best accident-avoidance systems in the business and an interior worthy of a high-end luxury car – all at a Chevrolet price.