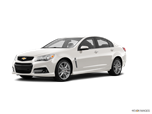 Manual-transmission fans, rejoice. Chevy has heard your pleas and made one available as a no-cost option for the 2015 SS. This mainstream performance sedan is further heightened with standard Magnetic Ride Control and rear Brembo brakes to match the stoppers in front. Also new is built-in Wi-Fi connectivity.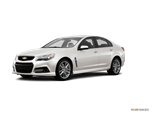 The Chevrolet SS is brand new to the U.S. for 2014.

About Chevrolet SS
Chevy's 2015 SS looks like an ordinary sedan on the outside but hides a beast within. That's what results when you stuff a Corvette-derived V8 under the hood of a 5-passenger family car. Now in its second year, the Chevy SS marks the return of a full-size, rear-wheel-drive sedan to the automaker's lineup after nearly two decades. Like the late Pontiac G8, the SS is based on Australia's raucous Holden Commodore. And like the Dodge Charger SRT and Ford Taurus SHO, the Chevy SS serves a small but fervent audience of performance enthusiasts who want family-hauling practicality in a sedan that will embarrass most sports cars. At over $48,000 and with an addiction to gasoline, the SS isn't cheap but sure is thrilling.