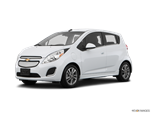 The Spark microcar gets a tech upgrade for 2015 with the addition of 4G LTE and Wi-Fi connectivity that turns the car into a mobile hotspot to keep the driver and passengers connected. The subscription-based system is standard as part of the OnStar communications service and includes a 3-month/3-gigabyte trial.
About Chevrolet Spark EV
The 2015 Spark is Chevrolet's smallest and least-expensive car. Tinier even than the Chevy Sonic subcompact, the 4-passenger Spark hatchback falls into the minicar class, where it competes with rivals like the Fiat 500, Smart Fortwo and Scion iQ. The Chevy Spark has a low starting price around $13,000 and a fuel economy rating of up to 39 mpg, figures that will attract younger drivers and those seeking high fuel efficiency. Drivers in California and Oregon also have the choice of the all-electric Spark EV. With its four doors and pair of rear seats, the 2015 Chevrolet Spark is more practical than its slightly smaller rivals. Chevy's city-friendly microcar can turn on a dime and fits anywhere, but is not ideal for long highway commutes.