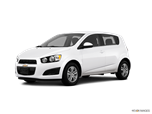 The big news for the 2013 Chevy Sonic is the addition of the sporty RS that includes a stiffer suspension, leather seats and unique 17-inch wheels. There's a simplified version of the MyLink infotainment system and all Sonics gain integral blind-spot side mirrors. The LT trim adds cruise control, a USB port, second auxiliary input, steering-wheel audio controls and Bluetooth streaming audio.
About Chevrolet Sonic
Some buyers will be drawn to the all-new 2012 Chevrolet Sonic because it's the only subcompact built in the U.S. Far more will be won over by the fact that it's the most well-rounded driver in the segment. As the bow-tie brand's newest answer to subcompact sedans and 5-door hatchbacks like the Honda Fit and Ford Fiesta, the Chevy Sonic comes into the world facing stiff competition. And if you're looking for standout styling or go-git-'em driving feel, you can indeed do better than the Sonic. But if you like the idea of an entry-level subcompact that drives more like a comfortable compact car, consider the Sonic an early favorite in your quest for affordable and efficient wheels.