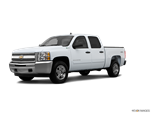 Changes for 2013 are limited to two new exterior colors and the addition of powertrain grade-braking that uses transmission downshifting to ease stress and temperature build-up on the brake rotors.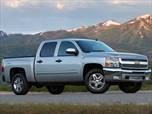 For 2012, Chevrolet gives the Silverado full-size pickup a refreshed front end, available heated/cooling seats for the LTZ, and a new White Diamond Edition. Also new is an available navigation radio with built-in hard drive that eliminates the need for map data stored on DVDs.

About Chevrolet Silverado 1500 Crew Cab
The 2009 Chevrolet Silverado Hybrid is a powerful full-size pickup that can deliver 40 percent better city and 25 percent better overall fuel economy compared to its conventional counterparts without sacrificing full-size truck capabilities, which include a 1,459-pound maximum payload and a 6,100-pound towing capacity. Teaming GM's sophisticated Two-Mode Hybrid system with a 332-horsepower aluminum 6.0-liter gasoline V8, it can operate battery-only up to 30 mph, yet drives much like any large pickup under most conditions. Most importantly, it consumes significantly less fuel at both city and highway speeds and even when fully loaded or towing. With EPA economy ratings of 21/22 city/highway mpg with two-wheel-drive and 20/20 city/highway mpg with four-wheel-drive, its 26-gallon fuel tank can deliver a range of 500 miles or more.