The 2016 Chevrolet Malibu is an all-new vehicle, and owes virtually nothing but its name and its top-end turbocharged 4-cylinder engine to last year's model.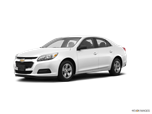 The biggest change to the 2015 Chevy Malibu is the addition of 4G LTE technology to OnStar. This allows the Malibu to act as a Wi-Fi hotspot, allowing computers, smartphones and tablets access to the Internet, as long as there's a 4G connection.
About Chevrolet Malibu
The all-new 2016 Chevrolet Malibu hits the reset button not just on Chevy's midsize sedan, but maybe on our expectations of all Chevrolet sedans. Its sleek looks might be the best in its class, resembling the larger Chevy Impala in all the right ways. But there's more than that pretty face. The new Chevy Malibu boasts a comfortable and modern interior with a big back seat and high-tech features like Apple CarPlay and Android Auto, rear cross-traffic alert and automatic-parking assist. There are three engine choices, including an all-new 1.5-liter turbocharged 4-cylinder and a hybrid with a Volt-derived powertrain. Put it together, and it's a formidable contender against the likes of the Toyota Camry, Honda Accord, Hyundai Sonata and Kia Optima.