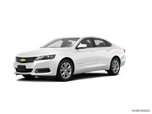 Chevrolet's Impala family sedan for 2016 gains the ability to host Apple's CarPlay, as well as wirelessly charge your mobile devices. In addition to some new colors, leather seating can now be added to the LT trim, while a new Impala Midnight Edition is added to the LTZ's option roster.
For 2015 the Chevy Impala is offering a bi-fuel model that can run on gasoline or compressed natural gas (CNG). The eAssist mild hybrid model is no longer available. The base 4-cylinder engine gets start-stop technology to save fuel, and 4G LTE with built-in Wi-Fi hotspot is now an option.
About Chevrolet Impala
The 2016 Chevrolet Impala has once again become the quintessential American family sedan. Wrapped in a stylish shell and loaded with value, the Impala is well positioned to challenge an aging Ford Taurus, as well as more expensive offerings such as the Chrysler 300 and Toyota Avalon. Although it doesn't offer the option of all-wheel drive, the Impala does have a few unique options, such as a bi-fuel engine that can run on gasoline or compressed natural gas (CNG) and a wireless charging pad for mobile devices. The Impala offers a handsome and roomy interior, impressive safety features and the most powerful naturally aspirated V6 engine in its class. A smooth ride, excellent handling abilities and good fuel economy only serve to sweeten the deal.