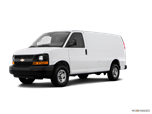 The changes to the Chevrolet Express for 2015 for both the Cargo and Passenger versions are minimal. There are some sound-system upgrades with digital AM/FM radios with auxiliary ports, a 110-volt power outlet and side-cut keys are standard, there is some LED lighting and you can pretty it up with a couple of new exterior colors.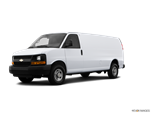 The 2014 Chevy Express Van cargo van can now be equipped with 5-passenger seating featuring a bulkhead partition between the 2nd-row seat and the cargo area. Side curtain airbags protect rear-seat passengers while extended-wheelbase models include rear air conditioning. Passenger vans add power windows and locks as standard equipment.
About Chevrolet Express 2500 Cargo
Whether it's hauling a lot of people, a lot of stuff or various combinations of the two, the 2015 Chevrolet Express Van has a proven track record as a known commodity. There are much newer and larger alternatives, including the Nissan NV, Mercedes-Benz Sprinter, Ford Transit and Ram ProMaster. But none of them have the hauling power offered by the Express Van's Duramax turbodiesel V8. Passenger versions can be outfitted to seat up to 15 people, or the Cargo version offers up to 285 cubic feet of space. Thanks to the aftermarket "upfitter" industry, the 2015 Chevy Express can be equipped to suit an extremely wide range of applications, such as for plumbers, electricians, florists or delivery.