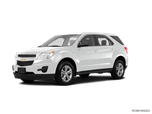 The 2015 Chevy Equinox is virtually identical to last year's model. The only notable change is 4G connectivity through OnStar, plus the ability to share that connection with other devices through onboard Wi-Fi.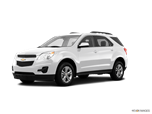 After receiving a more powerful V6 option and new safety features last year, few changes have been made to the 2014 Equinox except for new exterior color choices and the chrome-clad wheels now being offered as standard on high-end LTZ models.
About Chevrolet Equinox
Technically, the 2015 Chevrolet Equinox competes against compact SUVs like the Honda CR-V, Toyota RAV4, and Ford Escape. Like those, it seats five, and thanks to its considerably bigger dimensions, it offers up a roomy back seat. The compromise is with cargo space, where the Equinox falls short of even its smaller compact competitors. Behind the wheel, the Equinox isn't particularly exciting, but it does offer up a comfortable and quiet ride. It's also one of the only compact crossover SUVs to offer a V6 engine, a 301-horsepower 3.6-liter V6 that lets the Equinox tow up to 3,500 pounds. Fuel-conscious buyers will be more interested in the 4-cylinder version, which claims a competitive 32 mpg.