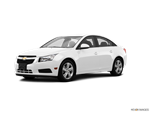 The big news for 2014 Cruze models is the availability of a turbodiesel engine. This is the powerplant of choice in about 40 percent of European Cruze models because of its fuel economy (40-plus mpg) and power output. Plus, we named it to our list of the 10 Best Sedans Under $25,000 for 2014.
For 2013, Chevy's Cruze receives a number of electronic and safety upgrades, including the availability of the MyLink infotainment system and two new color touch-screen radios, one of which features navigation. Side Blind Zone Alert and Rear Cross Traffic Alert are also made available.
About Chevrolet Cruze
Just a few short years ago, the compact-sedan segment was dominated by foreign automakers. Fast-forward to today, though, and we see extremely respectable models coming from the domestics. Among them is the Chevrolet Cruze, which burst onto the scene a couple of years ago with good looks, smart features, lofty fuel economy and a comfortable ride. The Cruze doesn't feel like an economy car, and its sales have proven that a quality compact from an American automaker can connect with buyers. The Cruze isn't the sportiest sedan in the segment – which includes the Honda Civic, Ford Focus, Hyundai Elantra and Toyota Corolla – but it offers impressive comfort and fuel economy. That latter characteristic gets a further lift in 2014 with the introduction of a turbodiesel model.