Narrow year range (drag arrows to filter):
See photos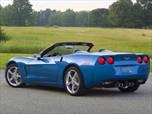 A new, lower-priced LT1 Convertible joins the fleet, while the LT2 version receives as standard a power operated top. New features for the 2009 Corvette include steering-wheel audio control, optional Bluetooth connectivity, a new variable steering ratio and, on the Z06, a new 10.5-quart dry-sump lubrication system. The Z06 and Corvette Coupe also receive a power hatch pull down.
About Chevrolet Corvette
Once known as America's only two-seat sports car, the Corvette continues to offer driving enthusiasts the most bang for the buck, running neck-and-neck (and in some cases surpassing) exotic cars costing up to four times as much—or even more. No where else but in America can you find a sub-$50,000 sports car delivering 400 horsepower while returning an EPA highway fuel economy figure of 28 miles per gallon. Although not as light or nimble as the Porsche 911, the Corvette's optional Z51 Performance Package renders it track-ready, while the car's luxurious interior and comfortable ride make it perfect for daily commutes or long weekend getaways. Available as a coupe or convertible, the 2007 Corvette remains in a class by itself.