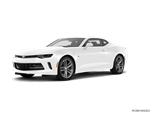 The 2016 Chevrolet Camaro is all-new this year. It shares its name and basic styling with last year's model, but on a smaller, lighter and much more sophisticated chassis. The 3.6-liter V6 and 6.2-liter V8 are both more powerful, and the new turbocharged 2.0-liter 4-cylinder balances power and fuel economy.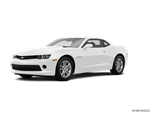 Fresh from its makeover last year, the 2015 Chevrolet Camaro sees only minimal upgrades. A color touch radio with MyLink and upgradable navigation is now available on LT, SS and ZL1 trims. One new color, Blue Velvet Metallic, is added to the Camaro's paint choices.
About Chevrolet Camaro
It's no stretch to say that the all-new 2016 Chevrolet Camaro feels more like a luxury-sports coupe from behind the wheel than a traditional muscle car. That's because the new Camaro was developed from the same underpinnings as the Cadillac ATS, one of GM's best-driving cars ever. The benefits go beyond just handling, too. The new Camaro looks similar to the previous generation, but the tidier dimensions make it look athletic where the old car looked ponderous. It's lighter, allowing the V6 and V8 engines to pack a bigger punch than before while still getting better fuel economy. The view out the back is still pretty terrible, but there's no mistake that the new Camaro is going to give the new Mustang night sweats.