Affordable all-season transportation.
The 2015 Subaru Impreza continues the model's tradition of providing affordable all-wheel drive capability to consumers who need a car to handle all forms of weather. Even the base Impreza at well under $20,000 comes with Subaru's Symmetrical All-Wheel Drive System and fuel economy competitive with other compact cars in its price range. For more adventurous drivers, the WRX and STI trim levels bring rally-inspired performance at impressive prices.
Driving the Impreza
"This AWD system is always engaged, sending power to wherever it's needed most and providing excellent traction on dry and wet pavement. Connected to the 2.0-liter 4-cylinder engine is a continuously variable automatic transmission (CVT), and while it may not be everyone's favorite, it returns excellent fuel-economy numbers in spite of the added weight and complexity of the AWD system." Find out more in our 2015 Subaru Impreza full review.
Awards
The Subaru Impreza took home last year's Kelley Blue Book Best Resale Value Award in the compact car category. From the awards note: "If your new-car budget is in the neighborhood of $20,000 and a significant chunk of your annual miles are spent in the snow, the 2014 Subaru Impreza is the new car to beat."
What's New
Changes for the 2015 model year include a mild facelift, quieter cabin and much-improved infotainment system. The 2015 Impreza is also available with adaptive cruise control, pre-collision braking, lane departure warning and steering-responsive fog lights that help illuminate turns, all part of Subaru's EyeSight Driver Assist system.
What's Coming
At the 2015 Tokyo Motor Show, Subaru showed the Impreza 5-Door Concept, expected to arrive as a 2017 model. The styling cues on this concept may also preview the direction in which Subaru design is headed.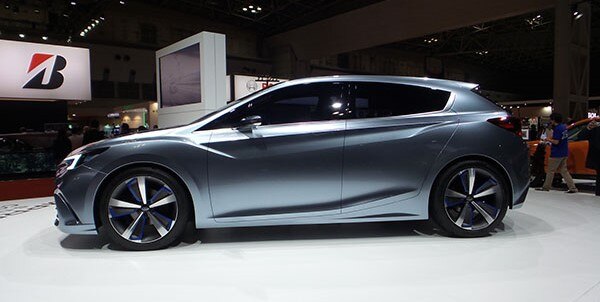 More Power
Performance-minded shoppers can step up from the 148-horsepower Impreza range to the sport-tuned, 265-horsepower WRX, or all the way to the 305-horsepower WRX STI.
Owners Say
KBB.com reader Mochi: "I chose my WRX because I felt like it was the most car I could possibly get for the money...It's always raining here and I don't fear puddles, this car is planted to the ground. It's very smooth and solid, not too stiff like the other cars and road noise is not an issue." Read more Subaru Impreza consumer reviews.
Build and Price
A base 2015 Subaru Impreza sedan starts around $19,000 (with destination), and 5-door hatchback models are $500 extra. A well-optioned Impreza can reach about $25,000, while WRX and WRX STI performance models range from about $27,000 to $40,000. Build and price your own 2015 Subaru Impreza to unlock this week's Fair Purchase Price, 5-Year Cost to Own and more.
More Compact Cars
In the sub-$20,000 range, there is plenty of competition for the 2015 Subaru Impreza. When you consider the standard all-wheel drive, however, the inherent value of the Impreza makes it a segment standout. Visit our Compact Car Buyer's Guide to become an instant expert on the category.
Photo Gallery: Subaru Impreza Inside and Out