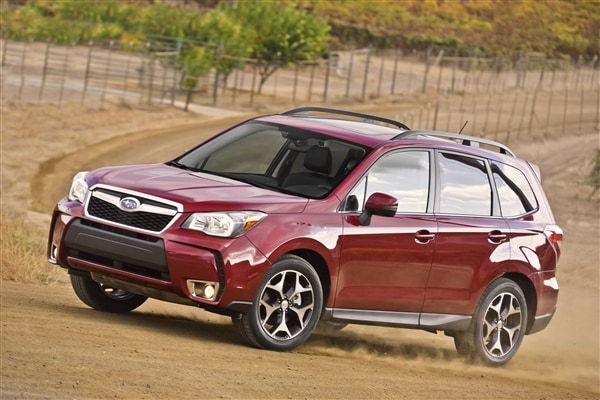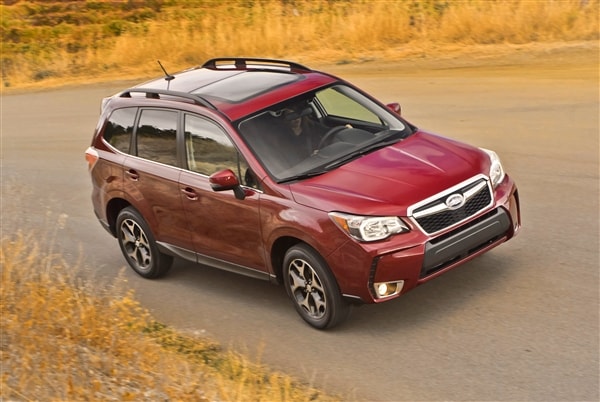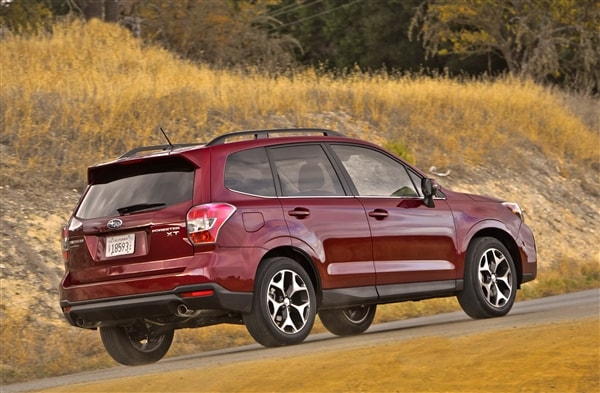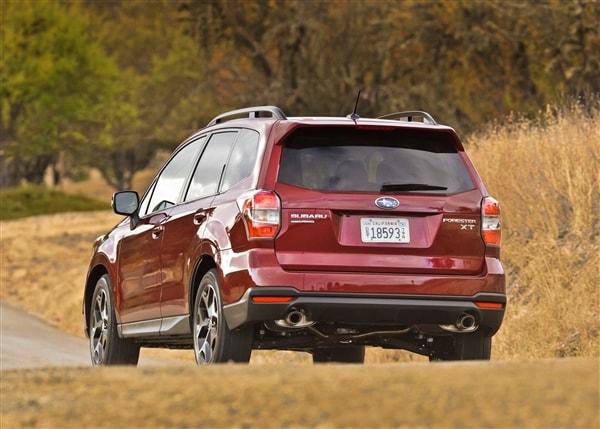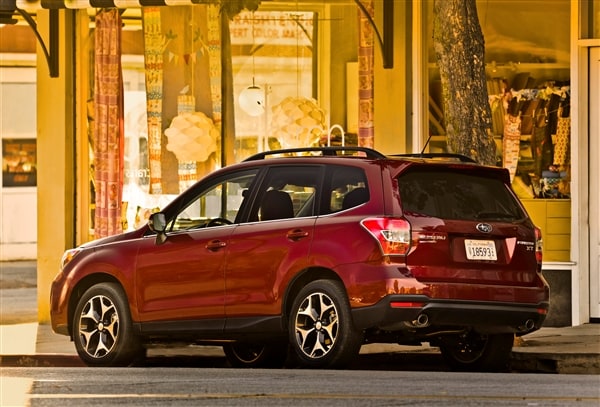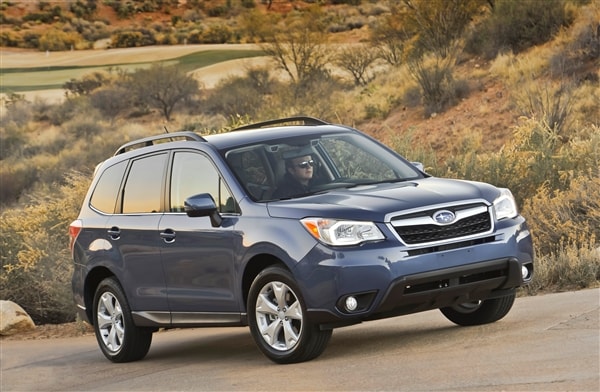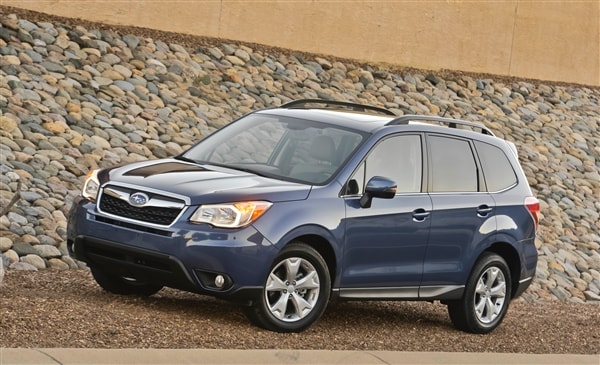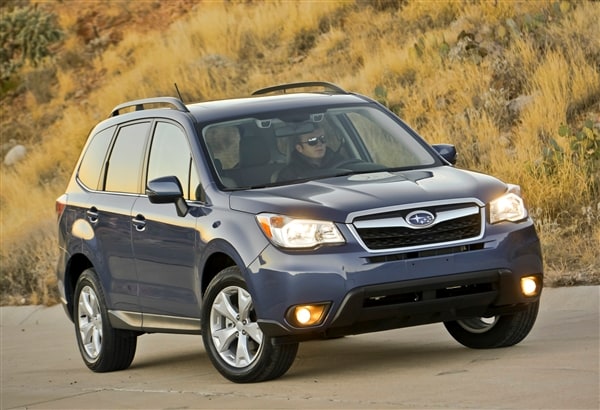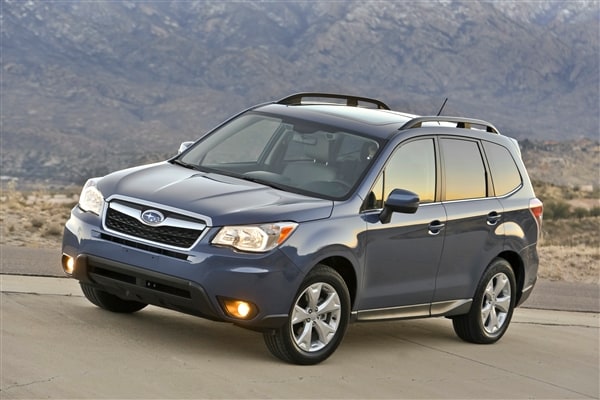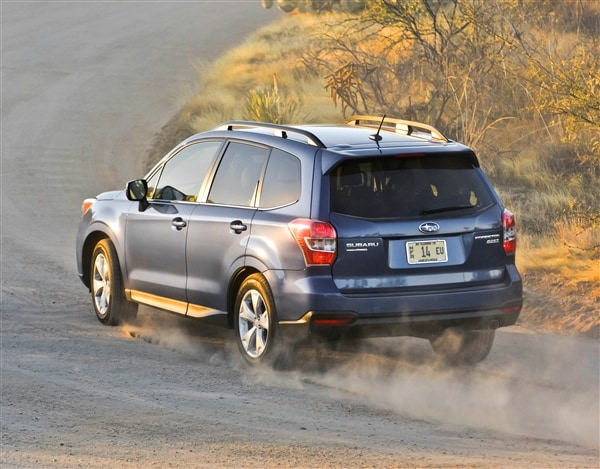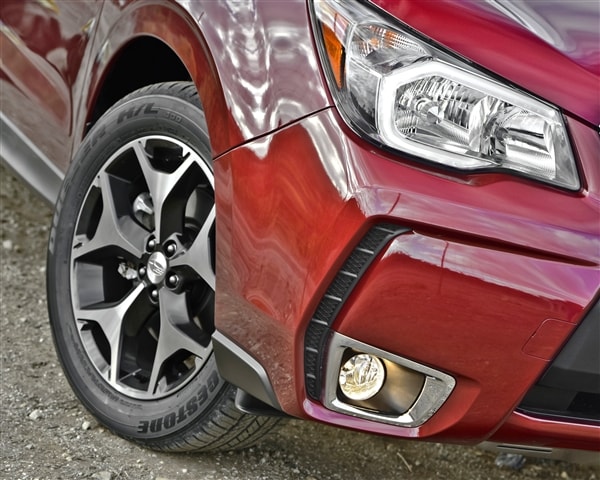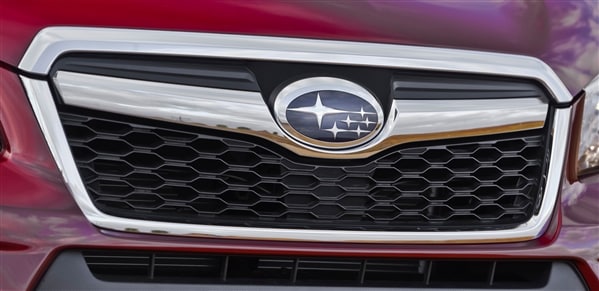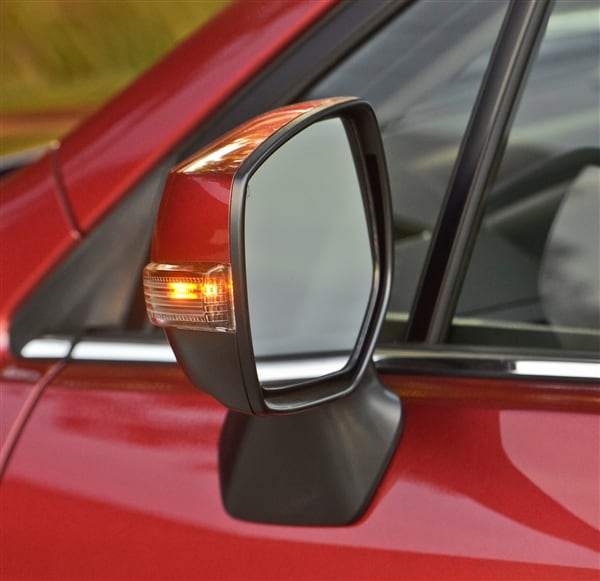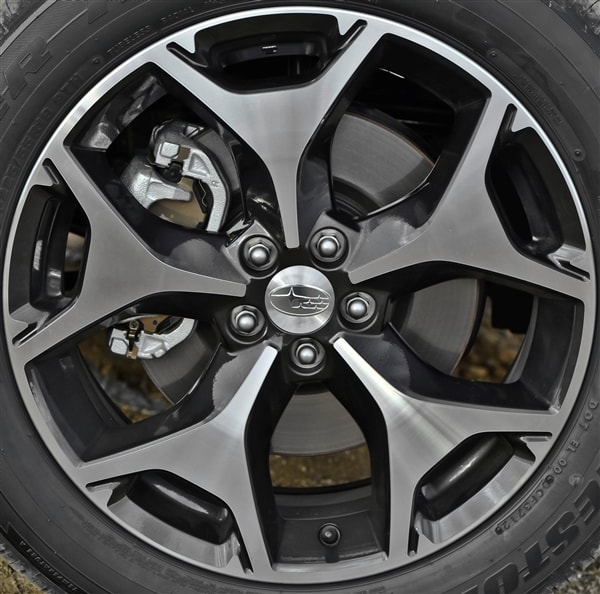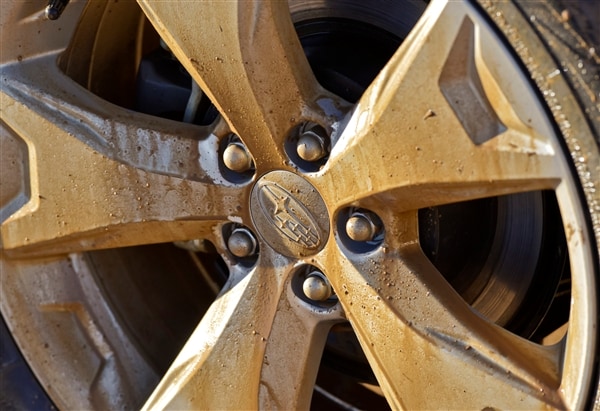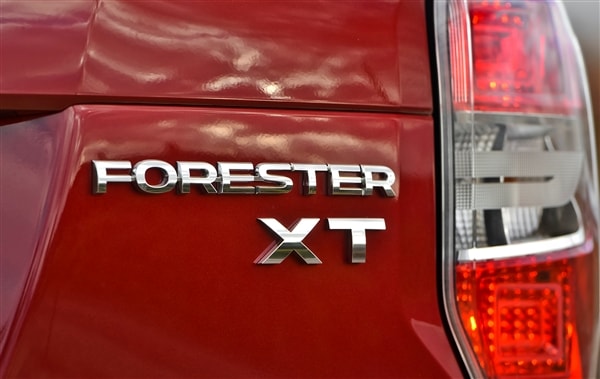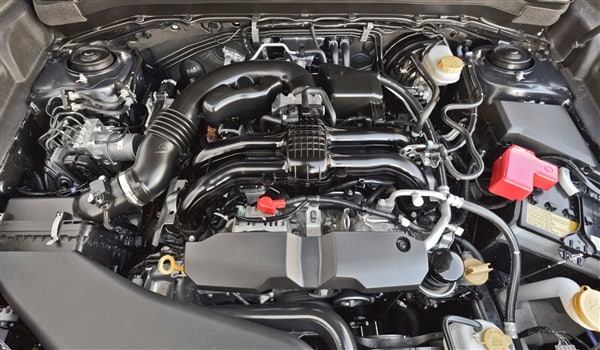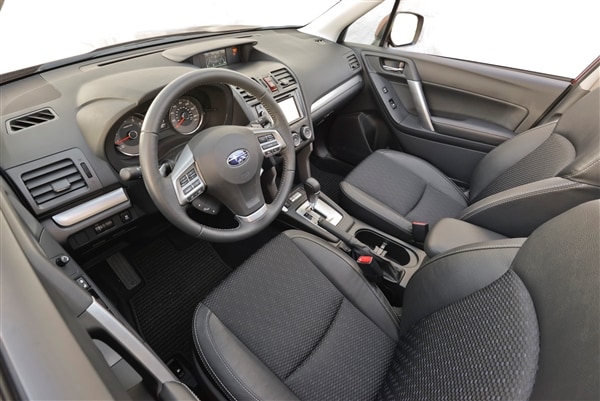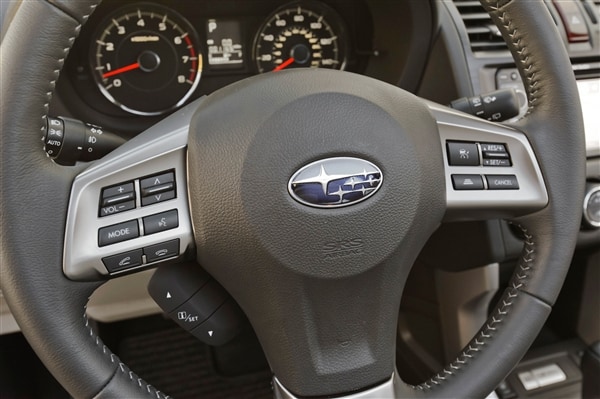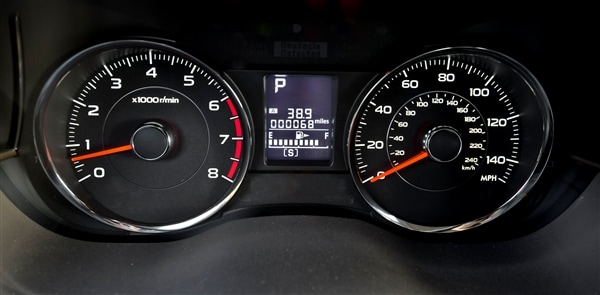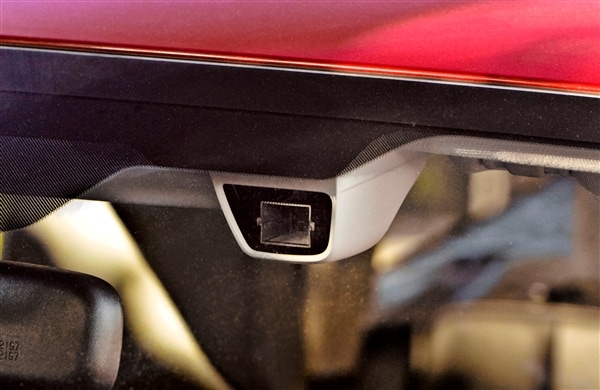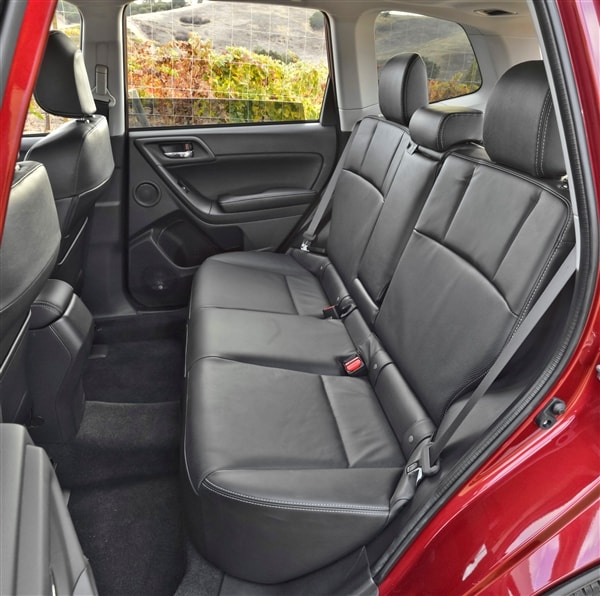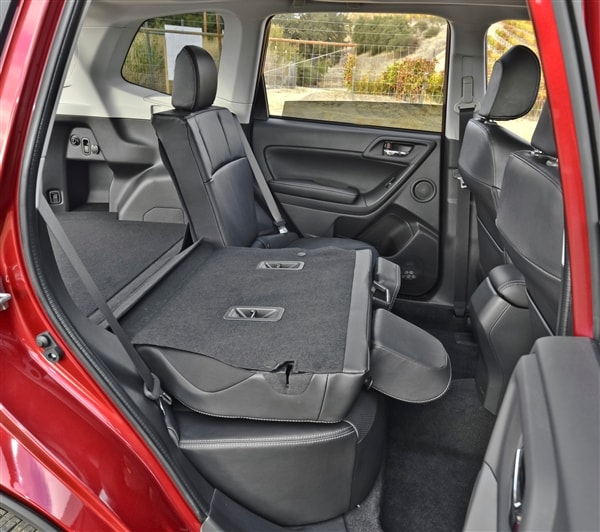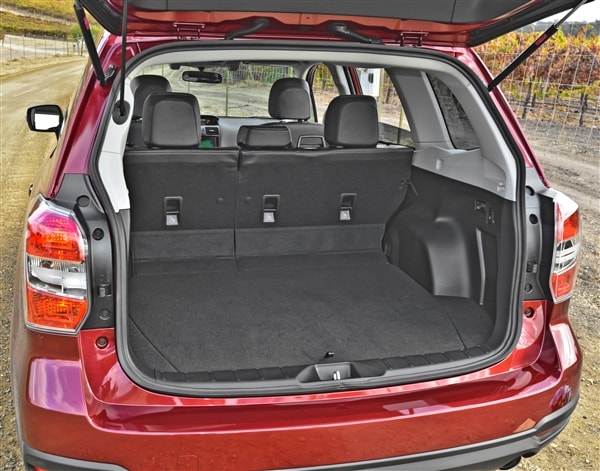 The unofficial mainstream compact SUV of dirt and snow
Disproportionately popular in colder areas of the country -- and with the outdoorsy set -- Subaru's compact SUV was completely redesigned last year. The 2015 Subaru Forester is more competitive with small SUV stalwarts like the Honda CR-V and Ford Escape, but it still offers a superior all-wheel drive system -- as standard equipment -- that makes it especially appealing to those who experience traction deficiencies on a seasonal basis.
All-Wheel-Driving It
The Forester matches a low step-in height with credible ground clearance. And its low center of gravity (relative to other compact SUVs) has a payoff in stability, as noted in our 2015 Subaru Forester full review: "With its rigid central structure, wide track, lengthened wheelbase, and Subaru's signature Symmetrical All-Wheel Drive, the new Forester SUV is a good performer on road or off."
Build and Price
Forester pricing starts a hair over $23K for the base model and can exceed $35,000 fully loaded. Regardless of investment, Subaru's historically high resale values ensure you'll get a good chunk of your money back. Build your own 2015 Subaru Forester right here at KBB.com and we'll help you pay the right price.
Forester Awards
The Subaru Forester was recognized on our most recent list as one of the 10 Best SUVs Under $25,000.
Most Popular
Like most entries in the Compact SUV category, the Forester's mid-level 2.5i Premium trim is the most popular among Forester's customer base. With 17-inch alloys, panoramic moonroof, power driver's seat, rear vision camera and enhanced entertainment package with connectivity, the Premium is a relative no-brainer among Subaru's six Forester trim levels.
Comparison Test
The Subaru Forester was one of six compact SUVs we drove 800 roundtrip miles from Southern California to Phoenix, Arizona, as part of our most recent Compact SUV Comparison Test.
What's Next?
All-new for the 2014 model year, we don't expect any big Forester changes over the next few model years. However, since Subaru has introduced its first hybrid powertrain in the XV Crosstrek, there's a possibility that drivetrain might eventually make its way into the Forester.
Consumer Reviews
Subaru owners often bridge the chasm between 'fan' and 'fanatic'. This customer is a perfect example. "Had my 2015 Forester now for almost a month. Great gas mileage--averaging 27 MPG and most of that is city. Can't wait till I get it out on the open road and get even more!! Eye sight feature has already saved us from having an accident!! Car stopped in front of us and I was not looking. Thankfully the eye-sight was looking. Great vehicle!! I kept my 2001 Subaru Forester from 2000 till 2014 so I'm looking forward to keeping this till at least 2028!!" Read more consumer reviews of the latest Subaru Forester.
Getting it Dirty
In our video review of the current-generation Subaru Forester, we explore the interior, go off road and taunt cows and a hitchhiker.
Your Other Choices
The Subaru Forester also offers a better-than-most AWD system, but most compact SUVs are as capable as most buyers will ever need them to be. Check out our Compact SUV Buyer's Guide to see all your choices and get up to speed in a hurry.