It's as practical as any other midsize sedan, just more fun.
You know that Hollywood cliché with the quiet kid who's constantly overlooked until he saves the day with some heroic skill no one suspected he had? Well, that kid is the Mazda6. Constantly dwelling in the shadows of heavyweights like the Honda Accord and Toyota Camry, the athletic Mazda6 is now fighting its way into the spotlight with renewed vigor. It's been totally revamped for 2014 and boasts wonderful road manners, an efficient and modern powertrain, excellent cabin design and svelte new skin.
A Driving Force
The Mazda6 is among the best-driving midsize sedans even though it doesn't offer V6 or turbo power. From our full review of the 2014 Mazda6: "By designing the body, engine and transmissions at the same time, Mazda engineers were able to tailor the body and chassis to match the other components, resulting in a lighter yet stiffer body, which offers more precise handling. At the same time, the suspension was optimized to enable more confident cornering."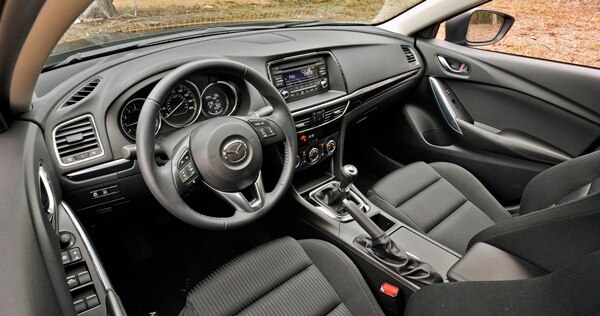 One of the Best
Thanks to its impressively low projected out-of-pocket expenses, the 2014 Mazda6 took home a 5-Year Cost to Own award.
Sky What?

More a philosophy than a feature, Skyactiv refers to engines, transmissions and design working together to improve efficiency and performance at once. The Mazda6's Skyactiv engine, for instance, features direct injection, a stratospheric 13:1 compression ratio and available trick technology like the i-ELOOP energy regeneration system that helps bump highway fuel economy to 40 mpg. The Mazda6 is indeed among the most fun and most efficient midsize sedans you can buy, thanks in large part to Mazda's Skyactiv approach.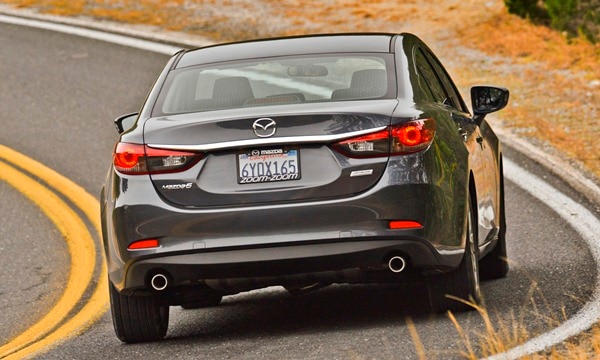 Cost of Entry
The 2014 Mazda6 enters the market at a hair under $22K for the base Sport variant, and a loaded Grand Touring can crack $35,000, particularly if combined with the $2,080 GT Technology Package (which includes the mpg-enhancing i-ELOOP energy regeneration system). Build and price a Mazda6 to your liking, and we'll give you a Fair Purchase Price that reflects real-world selling prices updated weekly and adjusted for your area.
Mazda6: 1 of 12
If delivering driving satisfaction isn't a top requirement for your next midsize sedan, you'll have one fewer reason to choose the Mazda6 over one of its 11 midsize sedan competitors.
Life with the 2014 Mazda6
Want to know what it's like to spend every day with a 2014 Mazda6? We're doing just that for the next year so follow along as we see how Mazda's midsize sedan fares during the day-to-day grind.
2014 Mazda Mazda6 Long Term Intro
Photo Gallery: 2014 Mazda6 Inside and Out