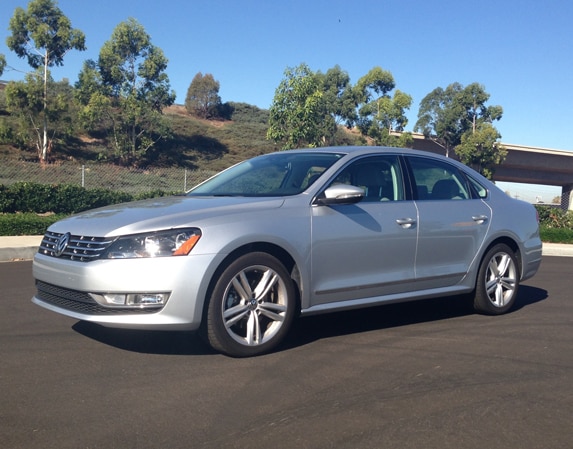 Long an outlier on the midsize sedan scene, the Volkswagen Passat was completely reformulated for the 2012 model year to better compete with automotive staples like the Honda Accord and Toyota Camry (see all 12 midsize sedan choices). The smaller, premium-priced Passat was made significantly larger and more affordable, meeting with favorable reviews upon its introduction.
The KBB.com editors wanted to get better acquainted with the new model, so in May 2012 we took delivery of a 2012 Volkswagen Passat TDI SE with Sunroof so we could play the part of Passat owner for 12 months. Here's how it's going: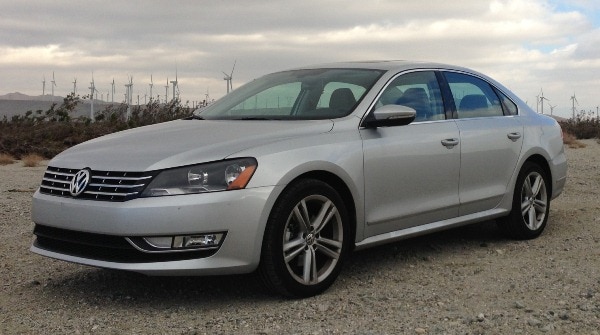 January 29, 2012
In it for the Long Haul
As it has for many of my KBB.com cohorts, our long-term Passat TDI has quickly become my go-to vehicle for lengthy road trips and commuting duties. Of course, the Passat's miserly fuel consumption, particularly on the highway, is the primary reason I choose it for such responsibilities. But the more time I spend behind the wheel, the clearer it becomes that this mid- to full-size sedan is much more than just a faceless fuel sipper.
During my most recent 230-mile round trip from Redondo Beach to Palm Springs, California (including a stop at the giant desert wind farm, pictured above), I noticed the Passat exhibits greater high-speed stability than other midsizers. In addition, aggressive highway lane changes could be completed without triggering the transmission kickdown feature, an overlooked convenience that most fuel-efficient offerings tend to ignore.
That's not to say the Passat is incompetent as an urban runabout, either, as its torque-rich powerplant and tight turning radius make for easy in-town driving. Barring a few minor grumbles regarding the finicky multimedia controls and just-okay sound quality from the Fender premium audio system, the 7th-generation Passat is one well-rounded midsize sedan. —Zach Vlasuk, Associate Editor


December 28, 2012
Summer roadtrip revisited
This past summer we took a five-thousand-mile roadtrip in our Passat-for-a-year. This month, we finished the video. Where could we have gone to log so many miles, and what kind of fuel economy did the diesel deliver? Watch the video below to find out. —Micah Muzio, Managing Editor, Video

November 30, 2012
On the daily commuter grind
Having put well over two thousand miles on our long-term 2012 Passat TDI -- most of it spent on California's notorious Interstate 405 - I, too, have developed solid admiration for the many impressive qualities designed into this remarkably capable and comfortable cruiser. It's always particularly amusing to watch the mile count on the car's distance-to-empty readout actually increase during the course of my 70-mile drive to work on mostly open freeway in the mornings -- even if that figure often does drop off by up to triple digits on the always excruciating journey back home in the evening. However, those interim fluctuations notwithstanding, the TDI's combined tank average consistently falls in the mid- to high-30s mpg range, a genuinely formidable stat for any vehicle of its size under these conditions. As for nits, I still can't figure out why VW failed to fit its flagship 4-door with a standard rearview-camera system or even offer one as an option - an issue that prudently has been corrected on the 2013 Passat - or why the car's retained power circuit keeps the window and sunroof alive after the engine has been switched off but fails to do the same for the radio. —Bob Nagy, Senior Editor, News & Trends

October 28, 2012
Taking its punches
Since we took delivery of our long-term Passat in May, we've driven brand new versions of the Honda Accord, Nissan Altima, Chevy Malibu, Ford Fusion and even a pre-production, European version of the 2014 Mazda6. How is the Passat holding up to the onslaught of new and improved competitors? Very well. It's still among the roomiest midsize sedans, still among the most stylish — playing the impeccably reserved European of the bunch — and still offers a brand of driving feel you won't find elsewhere in the category. It's fallen back a bit in the infotainment and fuel economy departments, but it remains the most competitive Passat ever. —Jason Allan, Managing Editor, Online Content

September 30, 2012
Slow sipper
When I think about why I like the Passat TDI so much, I get perhaps an unusual visual in mind. More than its comfortable seats, ergonomic controls, and premium fit and finish, it's that fuel gauge that sits right in front of me. More precisely, it's how little that gauge changes, even after many, many miles. This slow-motion gauge is courtesy of a fuel-efficient diesel engine, with which we regularly realize highway fuel economy of 40 mpg and even a bit beyond. That the Passat TDI is comfortable, quiet, and more powerful than you'd expect only makes me more smitten with this fuel-sipping sedan. —Matt Degen, Senior Associate Editor

August 27, 2012
Smart size
If not the best or the flashiest car in the lot, our 2012 Volkswagen Passat TDI is certainly one of the smartest long-term vehicles we've ever had. In addition to terrific fuel economy -- 30 mpg city, 40 mpg highway -- and an abundance of diesel-inspired passing power, the Passat is an ultra-practical powerhouse. It is utterly unfussy to drive, and as an everyday + weekends vehicle, it shines thanks to its elegant mechanical simplicity and interior space that's around two cubic feet larger than the Newtonian universe. The rear-seat legroom alone puts every other mid-size sedan to shame. Even if the Passat's looks are a little too understated, all is forgiven. —Richard Homan, Senior Vehicle Evaluation Editor

July 31, 2012
Vegas approved!
Diesels are known for their mileage-maxing ability, so I wanted to see if our long-term Passat TDI could make it to Vegas and back on one tank of gas. Even though Volkswagen says the diesel-powered Passat is capable of traveling nearly 800 miles on a single tank, success wasn't a given because the 270-mile route between our corner of Southern California and Las Vegas has plenty of efficiency-sucking elevation change and I'd be doing plenty of city driving while in Sin City.
I zeroed out the trip odometer and headed out toward The Strip, driving as I normally would. Keeping the highway cruising at a steady 75 mph, I topped the car's EPA-estimated 40 mpg highway and averaged an impressive 42 mpg. I drove the car like I normally would while in Vegas - accelerating hard when needed -- and averaged 36 mpg.
When it was time to begin the trek home, the fuel gauge showed a little less than half a tank. Five hours later -- right as the trip odometer ticked 640 miles -- I made it home with no refueling needed. In fact, the low-fuel light came on right when I pulled into the driveway. Take that, Prius! —Joe Santos, Road Test Editor

June 29, 2012
Family room
From the moment I got behind the wheel of the new Passat I knew that I had found a friend. And as it turns out, the Passat has been more than a personal friend but also a family friend, offering its commodious interior and ample trunk space to haul various of my daughters to a wide assortment of softball games with all the gear a coach must carry stored effortlessly inside. The extremely good news as we cruised the freeways of Southern California: the Passat offers stellar fuel economy and incredible range, just the ticket when you're running late to warm-ups. —Jack R. Nerad, Executive Editorial Director