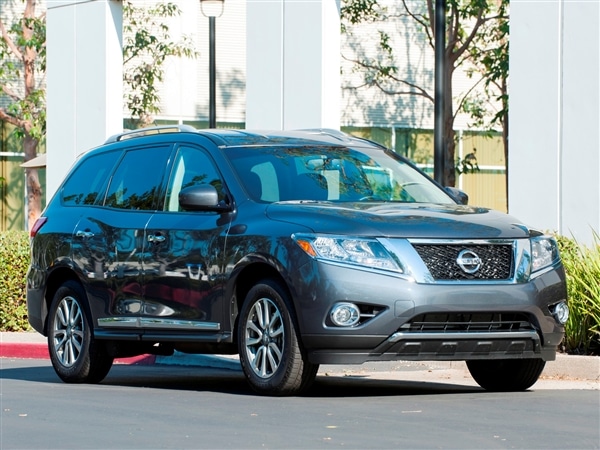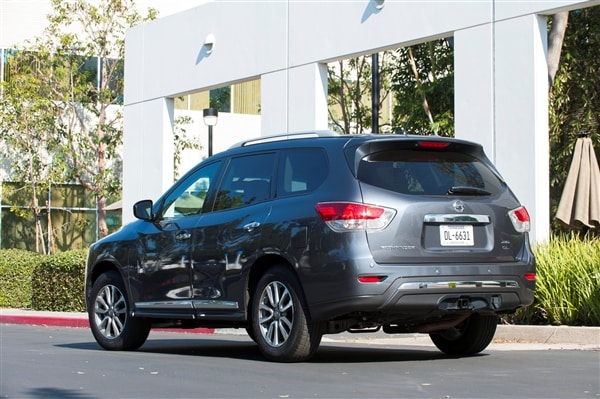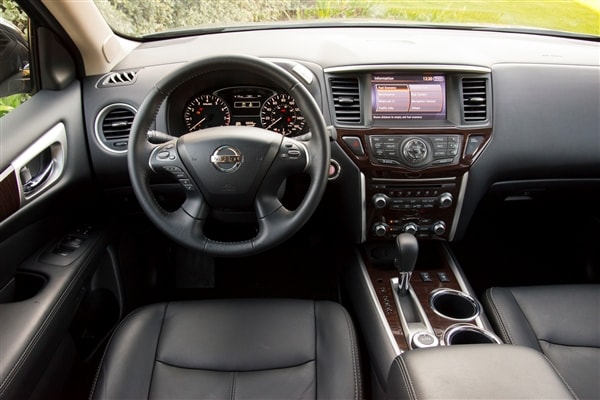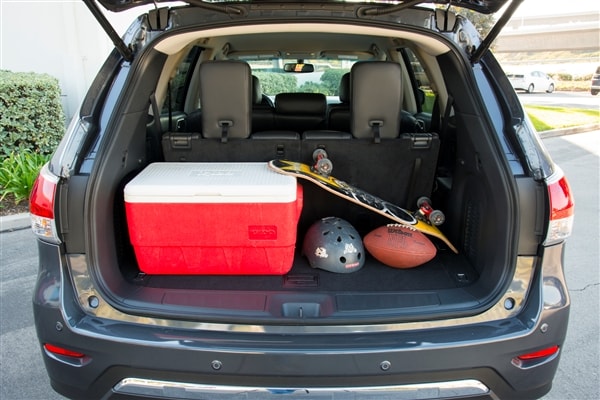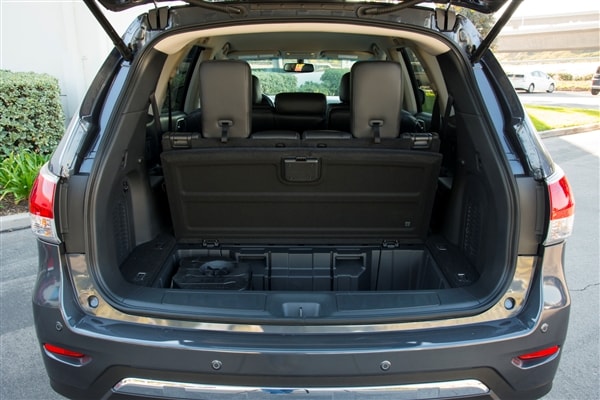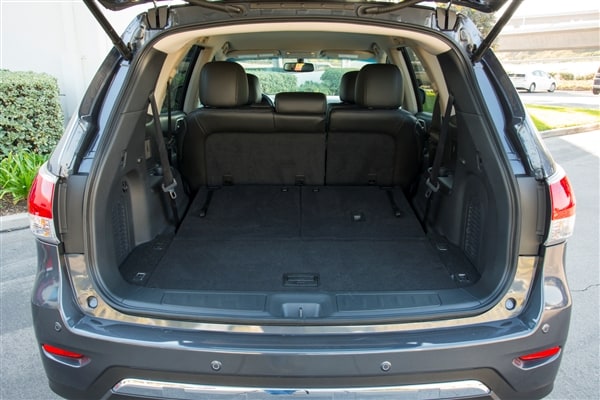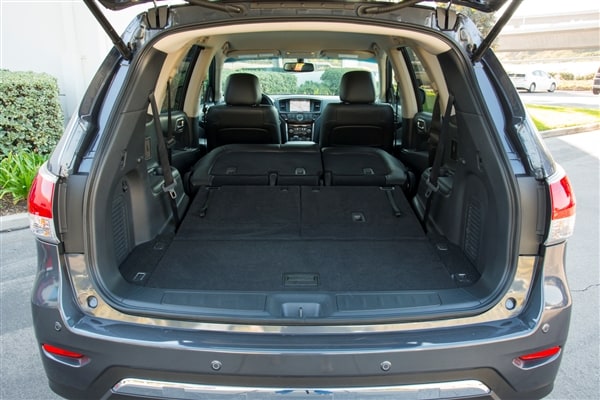 A family-friendly SUV that hardly misses a beat
The name "Nissan Pathfinder" is nothing new to car buyers, as it's been around since the 1980s. But the new Pathfinder has hit a sweet spot with family-car buyers, with sales more than doubling since its debut last year.
It's easy to see why. The redesigned Nissan Pathfinder puts family first, with a roomy interior and plenty of cargo space. Of course, that describes pretty much any SUV these days, so Nissan upped the ante in some really compelling ways. For example, instead of just a rear-view camera, there's Nissan's Around View Monitor system. Available on the top-level Platinum trims, Around View uses cameras in the front, under the mirrors, and on the hatch lid to project a bird's-eye view of the Pathfinder as you park -- not staying between the lines is a thing of the past. Then there's the Pathfinder's LATCH and Glide 2nd-row seat, which allows you to slide the seat forward without undoing your LATCH-mounted child seat.
But maybe best of all is that all this is wrapped in a sharp looking design, one that's simultaneously fashionable and subdued enough to wear well. The interior is just as nice, and was one of our favorites in the vehicles we tested. A sub-$30,000 starting price seals the deal.
Key Family Car Strength
While Nissan's Around View Monitor is definitely cool, it's exclusive only to the Pathfinder Platinum trim, and not available on the rest of the lineup. So we're giving the nod to LATCH and Glide second row. If you've ever had to get someone into the third row of your SUV when there's already a booster installed in the second row, you'll appreciate it. The second row position behind the front passenger has a seat bottom which tilts forward, taking the LATCH-equipped seat with it. It's really handy, even if the seat doesn't slide quite as far forward as it would without a booster attached.
Key Family Car Weakness
As a family car, the Pathfinder is an "A" student, and all but leaves an apple on the teacher's desk. It's so well rounded that about the only criticism we could level at it was the lack of blind-spot detection at any price. Nissan may do this to create daylight between this vehicle and the Infiniti QX60, but with blind-spot detection rapidly making its way down-market, it's short sighted.
Model Range
The 2014 Nissan Pathfinder is available in both V6 and hybrid versions, and pricing is straightforward. The most basic is the S model, which starts at $29,810 and includes the lineup's 260-horsepower 3.5-liter V6 and continuously variable automatic transmission (CVT), along with the LATCH and Glide seat, 3-zone automatic climate control, and push-button ignition. Moving up a level, the $32,970 SV adds a rear-view camera, backup sensors, Bluetooth, and a color monitor. For $35,910, the SL adds leather, fog lights, remote start and a power liftgate. The top-of-the-line Platinum edition adds the Around View camera, navigation, heated and cooled front seats, and 20-inch wheels. Hybrid models add $3,000 to the price and are available at the SV trim level. The hybrids swap out the V6 for a 2.5-liter supercharged 4-cylinder, but otherwise the trim-level features from V6 to hybrid are the same. If you want all-wheel drive on your Pathfinder, you'll pay an extra $1,600, regardless of trim or drivetrain. All prices include the $860 destination charge.
Family Friendliness
There's more to the Nissan Pathfinder's family-car friendliness than LATCH and Glide and the Around View camera. For example, even with our rear-facing infant seat installed, there was plenty of legroom in the front passenger seat, and there was even room between the infant and toddler seats for a skinny third passenger to sit. Without boosters or infant seats, the second row easily accommodates adults, although like most SUVs, the Pathfinder's high ground clearance makes it a bit difficult for smaller kids to climb in. The third row was surprisingly accommodating, especially for kids, and it's easy to get to thanks to the grab handle molded into the plastic panel behind the 2nd-row seats. If your 3rd-row passengers are taller than you'd expect, you can even slide the second row forward to create more room. Starting at the SV trim, you can get a $1,860 rear-seat entertainment system, with two separate screens mounted in the front-seat headrests. It's great for showing two different things at once -- you can plug a video game console into the RCA or USB port -- but 3rd-row passengers can't see the screens well.
Cargo and Storage
The Pathfinder's cargo area behind the third row is definitely on the small side, but still big enough for a dozen or so grocery bags. There's a hidden storage area under the floor, although a good chunk of it is occupied by the audio system's subwoofer. The rear seatbacks split 50/50 and fold easily, making plenty of room for larger cargo. The 2nd-row seats fold in a 40/20/40 split, meaning the center position's seatback folds independently of the outboard seats, making it easier to carry long objects and two passengers. It's not a high lift to put stuff into the Pathfinder, but it's still up there compared to vehicles like sedans and minivans. If there was one thing we'd change, it's the slow-opening power hatch.
Storage in the Pathfinder was good, if not exceptional. Cupholders and bins in the front, a center console bin, and plenty of nook and cranny space for rear passengers round it out.
On the Road
The Pathfinder's 260-hp V6 engine has no problem getting this big SUV moving, and quickly. The CVT lets it roar to redline -- and we do mean roar, as it gets loud -- and it stays there until you let off the gas pedal. At cruising speeds things quiet down considerably, and the Pathfinder was ultimately one of the quietest vehicles in our test when it came to highway driving. There's plenty of passing power, but with no blind-spot warning available, you'll have to double-check your mirrors carefully. In parking lots, the limited rear view hampers maneuverability. The available backup camera and reverse sensors help considerably, although nothing tops the bird's-eye view of the Platinum's Around View Monitor cameras.
Final Word
Competent, comfortable, and quiet...we like the path Nissan's family SUV has found.
More 2014 Nissan Pathfinder

Think you've found your path? Build and price your own 2014 Nissan Pathfinder right here at KBB.com to unlock its Fair Purchase Price, 5-Year Cost to Own and more.