The big news for the 2014 XTS is more power thanks to an optional twin-turbocharged V6 engine. The invigorated powerplant makes 410 horsepower and comes standard with all-wheel drive (AWD). Also of note are automatic parking assist, an available rear-seat entertainment system, and electric power steering in front-wheel-drive models.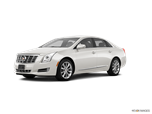 The Cadillac XTS is a brand-new nameplate for the 2013 model year, and brings the Cadillac brand one step closer to once again offering consumers a full range of vehicles.
About Cadillac XTS
Once proclaiming to be "The Standard of the World," Cadillac has more recently been fighting to reach a new – younger – generation of buyers. The addition of the excellent ATS compact sedan has been a big step forward, and the XTS aims to do the same on the other end of Cadillac's lineup. As the luxury brand's newest flagship sedan, the 2014 Cadillac XTS possesses a good balance of exterior style, interior refinement and modern (though potentially confusing) technology. Smaller than the geriatric DTS it replaced, the chiseled XTS bridges the gap between midsize and full-size luxury sedans. Starting around $45,000, it faces a broad set of rivals, from the Lexus GS and Mercedes-Benz E-Class to the more performance-oriented BMW 5 Series and Audi A6.