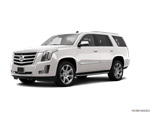 All-new for 2015, the Escalade boasts a redesigned interior and exterior, while fuel-economy figures climb slightly over the model it replaces. Versions built later in the 2015 model year have already been updated with an 8-speed automatic transmission, surround-view camera system and 4G LTE connectivity. The top-line Platinum edition also joins the collection.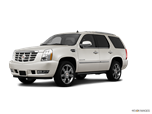 Cadillac is winnowing its Escalade offerings to just two versions for 2014, the regular model and the even longer ESV version. No longer available are the Escalade Hybrid or pickup-like Escalade EXT. The only thing new for the 2014 Escalade lineup is an exterior color: Midnight Plum Metallic.
About Cadillac Escalade
Despite a trend toward smaller, more agile and more fuel-efficient vehicles, the realm of the full-size luxury SUV seems to have missed the memo. As proof, the 2013 Cadillac Escalade shows no desire to change and no attempt to shed chrome, horsepower or price. And that's just the way Cadillac buyers like it. As popular with celebrities as it is with politicians, professionals and well-to-do soccer moms, the Escalade is pretty much in a league of its own. Be it the Escalade, its extended companion, the Escalade ESV, the open-bed EXT or the fuel-efficient (if you can call 23 mpg fuel efficient) Hybrid, Cadillac's Escalade for 2013 has all the bases covered.