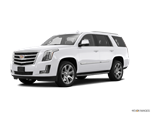 For 2016, the Cadillac Escalade and Escalade ESV full-size SUVs can be equipped with Lane Keep Assist. The CUE audio and infotainment system has been improved for faster response and more intuitive operation, plus given the ability to interface with Apple CarPlay.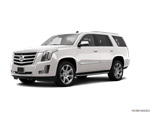 All-new for 2015, the Escalade boasts a redesigned interior and exterior, while fuel-economy figures climb slightly over the model it replaces. Versions built later in the 2015 model year have already been updated with an 8-speed automatic transmission, surround-view camera system and 4G LTE connectivity. The top-line Platinum edition also joins the collection.
About Cadillac Escalade
While there are a number of full-size luxury SUVs from which to choose, none offer the 2016 Cadillac's Escalade's combination of body configurations, power, luxury and sheer presence. If there were an award for most artful use of chrome trim, the Escalade's grille alone would win it hands down. Where other luxury SUVs seem to be downsizing, the long-wheelbase 2016 Escalade ESV proves bigger is still better, providing even more interior space than the standard-wheelbase Escalade. Both vehicles are powered by a massive 6.2-liter V8 and offer the option of 4-wheel drive (4WD). With a tow rating up to 8,300 pounds, the Escalade takes a back seat to the Lincoln Navigator. However, the Navigator can't match the Escalade's advanced safety and technology features.